Colorado Roadless Rule takes effect, but some conservation groups still object
A plan to manage some of Colorado's most prized forests went into effect this week, marking the end of a seven-year process conducted among an eclectic mix of stakeholders.
The Colorado Roadless Rule protects 363 roadless areas across 4.2 million acres of backcountry while providing foresters flexibility to address wildfire mitigation, deal with beetle infestations, accommodate ski area management, continue underground coal production in the North Fork Valley, and access and maintain water and utility corridors,
according to its supporters
.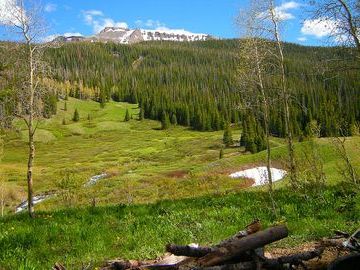 "Local businesses and communities will greatly benefit from this development, and I will continue to oversee the future implementation of this rule," read a press release from
U.S. Sen. Mark Udall
, who has urged Pres. Obama to quickly approve the rule to alleviate uncertainty for communities and industry.
Many residents, however, oppose the Colorado rule, saying it opens too much of the state's best backcountry to mining, drilling, and other large-scale activities. The state rule, they say, is unnecessary after
the 10th Circuit Court of Appeals upheld the 2001 national roadless rule
earlier this year. The national rule, which bans roads on about 30 percent of Forest Service lands, offers more protections, they say.
Still, some
conservationists
acknowledge the Colorado Roadless Rule that Agriculture Secretary Tom Vilsack published in the Federal Register this week improves on
earlier state-specific drafts
.
"The Colorado Roadless Rule has some strong conservation components we like a lot and a few exceptions for industry we are not thrilled about,"
Colorado Mountain Club
conservation director Scott Braden said in a prepared statement. "But on balance, this rule protects millions of acres for wildlife habitat, sustains our large recreation economy and our Colorado quality of life."
In May, when Gov. John Hickenlooper and other officials announced that the Colorado Roadless Rule had been deemed the preferred alternative, Paul Seby, an attorney representing the
Colorado Mining Association
, praised the state-specific plan as "a better and more flexible solution than the federal Roadless Rule; it protects Colorado's environment while preserving jobs in mining and other industries critical to our state's economy."
Also at that time, Ted Zukoski, the Denver-based attorney for Earthjustice, lamented that the Colorado Rule "still contains a loophole that allows coal companies to bulldoze roads on 20,000 acres of roadless forests and meadows, and it permits logging in remote areas far from communities. The Colorado rule leaves nearly 3 million roadless acres vulnerable to more road-building than was allowed under the 2001 national roadless rule. So taken on balance it is a step in the wrong direction."
---

21 Comments on "Colorado Roadless Rule takes effect, but some conservation groups still object"