Crews start work on new women's downhill ski-racing course at Beaver Creek
Construction began this week on the women's downhill course for the 2015 World Alpine Ski Championships at Beaver Creek.
The new track will feature terrain similar to the adjacent Birds of Prey World Cup men's downhill course and will host women's downhill, combined downhill and super-G races during the Feb. 3-15, 2015 World Championships.
The course, skiers right of Birds of Prey, is scheduled to make its international debut Dec. 14-15, 2013 as the women's World Cup comes to Beaver Creek for downhill and super-G competitions. Both the men's and women's events will finish in the new Red Tail stadium.
"Winning a super-G on the men's Birds of Prey track last winter was a huge highlight in my career," said Olympic downhill gold medalist and four-time overall World Cup champion Lindsey Vonn of Vail. "I have no doubt the new women's downhill will be every bit as thrilling to race as the men's hill and I fully intend to be competing for gold on my home snow in 2015."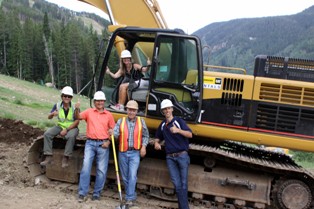 Vail Resorts' officials received final U.S. Forest Service approval for construction on May 3. The clearing of trees is slated to be completed in 18 days, while the stadium reconfiguration will be finished by this coming winter – in time for the annual men's Birds of Prey World Cup race week in December.
"The new women's downhill for the 2015 World Championships at Vail/Beaver Creek will be a showcase for athletes like Olympic champions Lindsey Vonn and Julia Mancuso, just as Birds of Prey has been for our U.S. Ski Team men like Bode Miller, Ted Ligety and Daron Rahlves [all of whom won races at Beaver Creek]," said Bill Marolt, president and CEO of the U.S. Ski and Snowboard Association.
In addition to the women's downhill, Beaver Creek will also construct a new track on Raven Ridge, located skier's left of Birds of Prey, to host the women's giant slalom and slalom competitions during the Championships.
Crews will also begin the process of reconfiguring the current Red Tail finish arena, with work including re-grading the finish and moving the existing timing building to the east side of the finish area. All individual events will finish in the new stadium.
"This is a day we've looked forward to ever since a new speed course for the ladies became part of our bid to secure the Championships," said Ceil Folz, president of the Vail Valley Foundation and 2015 World Championships Organizing Committee.
Click here (pdf) to check out a course map for the new women's World Cup courses at Beaver Creek.
---

26 Comments on "Crews start work on new women's downhill ski-racing course at Beaver Creek"