Green groups claim record number of signatures in support of EPA carbon standards
Conservation groups announced Thursday they have collected more than 2 million comments — almost 50,000 of them from Coloradans — supporting the U.S. Environmental Protection Agency's
new carbon standards.
To commemorate what it says is the most comments ever collected for the agency, a group of nurses, religious leaders, elected officials and activists gathered outside the EPA's regional headquarters in Denver on Thursday.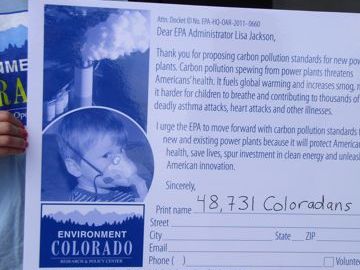 "We already knew that Americans strongly support the EPA's efforts to address climate change and to reduce dangerous air pollution that threatens the health and safety of our children, communities, and wildlife," reads a joint statement from Environment Colorado, Colorado Conservation Voters and the National Wildlife Federation. "Doctors, scientists and other experts agree that carbon pollution threatens our health, plain and simple, by driving climate change which increases the formation of lung-damaging and asthma-attack inducing smog, which is particularly dangerous for kids and seniors. Climate change is also driving more deadly heat waves, floods and infectious diseases."
Meanwhile, the U.S. Circuit Court of Appeals in Washington, D.C., on Monday rejected legal claims from industry groups challenging the EPA's crackdown on emissions from power plants, factories and car tailpipes.
The ruling gives the EPA the green light to move forward with rules that would require construction and operation permits for new power plants, cars and other large industrial sources using the Clean Air Act. The EPA's rules would also set mileage and emissions standards for new cars and light trucks.
In their decision, the federal judges, which included Chief Judge David Sentelle, a conservative appointee of former President Reagan, wrote: "This is how science works — EPA is not required to pre-prove the existence of the atom every time it approaches a scientific question."
Fourteen states had joined industry groups to appeal the EPA's finding that greenhouse gases may "reasonably be anticipated to endanger public health or welfare." Colorado was not among them. The states that appealed were Virginia, Alabama, Florida, Hawaii, Indiana, Kentucky, Louisiana, Mississippi, Nebraska, North Dakota, Oklahoma, South Carolina, South Dakota, Texas and Utah.
Even though this week's decision was a victory for the EPA, political observers expect members of Congress – such as Reps. Scott Tipton, Cory Gardner, Doug Lamborn and Mike Coffman — to continue to try to weaken the EPA's authority and attempt to strip powers from the Clean Air Act.

---

0 Comments on "Green groups claim record number of signatures in support of EPA carbon standards"
Be the first to comment below.