Romney feels some heat for campaign comments in Colorado coal country
Mitt Romney
took his campaign for president to Colorado's coal country Tuesday where he decried
President Obama's energy policies
that he claimed are hurting rural communities like Craig.
But everyone from the town's coal workers to its mayor painted a different picture. They told reporters who followed Romney to town that business has been good recently and companies are hiring.
Coal production in Colorado has been rising for seven years
. Nearly 28 million tons of coal were harvested in the state last year, but that is still well short of the industry's 45 million ton high in 2004.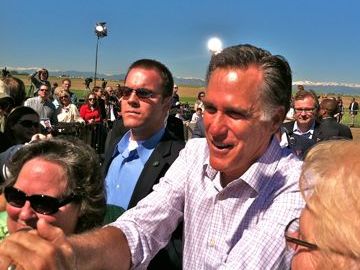 "You can't even tell there's [a recession] here. It's nice," Sean Schneegas, a 20-year-old coal miner from Craig told the Wall Street Journal, adding that business has been "huge" lately.
Still, environmental regulations and falling natural gas prices have crimped the U.S. demand for coal.
The unemployment rate in Moffat County - home of Craig - was 8.6 percent in March. That figure is above the national average but below the high of 11.1 percent the area weathered in early 2010.
Romney maintained the improving economy in some locations of the country is "not thanks to [Obama's] policies, it's in spite of his policies." He has called for looser federal drilling regulations.
While the northwest part of the state hosts a bustling energy economy, it also boasts hundreds of thousands of acres of wilderness, rivers, wildlife, and the last stronghold for sage grouse in Colorado.
"The argument that we can have development or conservation — not both — is a false choice," said Luke Schafer, a campaign coordinator with Colorado Environmental Coalition. "Development of our natural resources can happen in a responsible manner that doesn't unduly harm our air, water, wildlife and quality of life. To think otherwise is a defeatist attitude ..."
Political observers noted that shortly after Romney became the governor of Massachusetts in 2003, he vowed to close down an aging coal-fired power plant declaring that the "plant kills people." His administration implemented what would become the nation's first regulations on carbon emissions.
Romney struck a different chord in Craig, where he chastised Obama's clean energy efforts.
"You see he said he was going to create some 5 million green energy jobs," the Washington Post quoted Romney telling a crowd of about 1,000 people. "Have you seen those around here anywhere?"
Clean energy has created thousands of jobs in Colorado. The 30-megawatt solar plant that recently connected to the grid from 225 acres in southern Colorado is the biggest of its kind in the nation. Officials tallied 72,452 "green goods and services" jobs in the state in 2010. More and more, cities in Colorado are turning to solar, wind, geothermal and hydro as cleaner alternatives to oil and gas.
Many clean energy jobs could fall to the wayside, however, if Congress does not extend the wind production tax credit that gives owners of wind energy farms a 2.2 cents-per-kilowatt credit on their U.S. income taxes annually for the first decade of the wind farm's existence. The legislation, which President George H.W. Bush first signed into law in 1992, isn't supported by U.S. Rep. Doug Lamborn, R-Colo., despite bipartisan support from the rest of the state's congressional delegation.
President Obama last week joined U.S. Sens. Mark Udall and Michael Bennet, D-Colo., in urging Congress to extend the wind tax credit before it expires later this year. Vestas Wind Systems may lay off more than 80 percent of its Colorado workforce if the wind production tax credit isn't extended.
"I welcome the president's support of this," Udall said in a prepared statement. "China now tops the list for wind energy production, and other countries are making strides in renewable energy production as well. If Congress doesn't pass this wind production tax credit, we risk losing thousands of American jobs and playing catch-up with our global competitors."
Colorado generates the third highest percentage of power from wind of any state in the nation and is home to several major wind energy developers and wind turbine manufacturing facilities.

---

3 Comments on "Romney feels some heat for campaign comments in Colorado coal country"