Salazar urges oil, gas industry to tap public lands already leased for drilling
More than half of leased federal land undeveloped, report reveals
Oil and gas companies are tapping only about 28 percent of federal sea floor they have leased and 56 percent of the onshore land they've leased is also sitting idle, the Interior Department said Tuesday.
Interior Secretary Ken Salazar issued
a report (pdf)
detailing the wasted opportunities, even as oil and gas executives claim the Obama administration is thwarting domestic energy development. The report added that 7,000 approved permits for drilling on federal and Indian lands are also unused.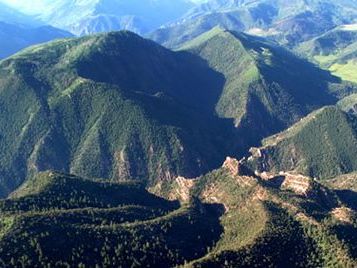 "We continue to offer new areas onshore and offshore for leasing, as we have over the last three years, and we also want companies to develop the tens of millions of acres they've already leased but have left sitting idle in order to further reduce our reliance on foreign oil as quickly as possible," Salazar said in a prepared statement that noted the White House's frustration with industry. "These lands and waters belong to the American people, and they expect those energy supplies to be developed in a timely and responsible manner and with a fair return to taxpayers. We will continue to encourage companies to diligently bring production online quickly and safely on public lands already under lease."
U.S. Rep. Doug Lamborn, R-Colorado, and his Republican colleagues have aggressively pushed for more federal lands to be opened to oil and gas drilling and for continued oil shale research. The Interior has resisted those efforts, recently scaling back the amount of acreage available to oil shale development.
Last year, American oil production reached the highest level in nearly a decade and natural gas production reached an all-time high. Salazar said that America's dependence on foreign oil has gone down every single year since President Obama took office. The United States has cut net imports of oil by 10 percent – or a million barrels a day – in the last year alone, the report stated, adding that the nation's refining sector was a net exporter last year for the first time in 60 years.
The report came as Interior's Bureau of Land Management announced nominations and comments on available tracts to be considered for its scheduled November 2012 oil and gas lease sale in the National Petroleum Reserve in Alaska – the second sale since Obama directed Interior to conduct annual oil and gas lease sales in the reserve. The BLM offered 3 million acres in the 2011 sale.
The Obama administration had been pushing back against industry claims that it hasn't done enough to develop domestic energy. One week ago, on the day Republican presidential frontrunner Mitt Romney dogged Obama's energy policies at a campaign stop in Colorado, Salazar announced the approval of 3,675 new natural gas wells in Utah. The League of Conservation Voters and Priorities USA Action, meanwhile, claim Romney is "in the tank for Big Oil," coloring him as the "$200 million man" because the Koch brothers have pledged to spend that amount to elect a Republican.
American Petroleum President and CEO Jack Gerard called the administration's report a political ploy designed to distract American voters from the administration's "failed" energy policy.
"Once again, the administration is trotting out claims about idle leases to divert attention from the fact it has been restricting oil and natural gas development, leasing less often, shortening lease terms, and going slow on permit approvals—actions which have undermined public support for the administration on energy," Gerard said. "It is also increasing or threatening to increase industry's development costs through higher taxes, higher royalty rates, and higher minimum lease bids."
The BLM, however, continues to clear its backlog of oil and gas permits, issuing more new drilling permits than applications received. In 2011, the agency processed 5,000 permits compared to 4,278 applications received, the report said, adding the rate of permitting is at its highest level since 2002.
Bill Eikenberry, a third-generation Wyoming rancher and former associate state director of the BLM in Wyoming, suggested lawmakers should "step up incentives which require oil and gas companies to develop drilling permits and leases" that Interior approves.
"I've got a real problem with the oil and gas industry asking for more giveaways like cutting clean water protections that protect agriculture when they don't use what they already have," he said.
While the oil and gas industry and Republican lawmakers place an emphasis on the economic importance of public lands, there is also mounting evidence that keeping those same lands free of drilling can be a financial boon to communities who rely on them for tourism and recreation.
A survey conducted for the Small Business Majority released Tuesday showed that 63 percent of small business owners in Colorado say access to protected public lands and outdoor spaces is a major part of why they set up operations in the state. Nearly three quarters of them support the Obama administration's 'all-of-the-above' energy policy and two-thirds of them support Sen. Mark Udall's proposal to better protect Browns Canyon and the Arkansas River Valley.
Last fall, over 100 economists — including 10 from Colorado — wrote President Obama and Congress urging them to protect more national parks, national monuments and wilderness areas.
"The rivers, lakes, canyons, and mountains found on public lands serve as a unique and compelling backdrop that has helped to transform the western economy from a dependence on resource extractive industries to growth from in-migration, tourism, and modern economy sectors such as finance, engineering, software development, insurance, and health care," they wrote. "Increasingly, entrepreneurs are basing their business location decisions on the quality of life in an area. Businesses are recruiting talented employees by promoting access to beautiful, nearby public lands."

---

0 Comments on "Salazar urges oil, gas industry to tap public lands already leased for drilling"
Be the first to comment below.