New study underscores economic might of recreation on Colorado River
The Colorado River provides much of the West with drinking water, water for crops and even water for fracking. In the end, though, it may be the non-consumptive use of recreation that is the river's most important economic contribution to Colorado and the region.
A study released earlier this month and presented at a small forum in Denver makes the case that the river — simply as an object of enjoyment — is the largest employer in Colorado.
The study — commissioned by Protect The Flows and performed by Southwick Associates — only looked at the money spent by residents of the six-state Colorado River Basin. It did not consider money spent by people from outside these states.
The study contends that nearly 80,000 Coloradans owe their livelihood to the river and that river-related retail sales alone generate more income than agricultural production in Colorado.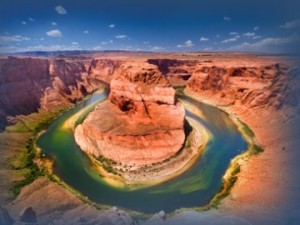 Of the six states studied, which included Arizona, Wyoming, Utah, Nevada and New Mexico, Colorado was by far the leader in terms of jobs generated and money spent. Direct spending in the region amounts to just over $17 billion a year, with just under $6.4 billion of that spent in Colorado. California was left out of the study because by the time the river reaches California it has lost most of its recreational value.
The forum, which drew only a couple of dozen people to a conference room at the Denver Chamber of Commerce, was nonetheless attended by both of Colorado's U.S. senators. Panelists included business owners from throughout the region.
They included the predictable: rafting company owners, fishing guides and hotel owners and the unpredictable: the owner of a tile business.
Lee Gruber, founder and co-owner of Syzygy Tile Works in Silver City, Nev., said her business, which sells hand-crafted art tiles worldwide, would have trouble finding employees if it wasn't for a healthy Colorado River system, several tributaries of which run nearby.
Gruber said healthy rivers and ecosystems are a quality of life issue for her and her 25 employees. She said all of her employees live in the area because of the lifestyle offered by the rivers and nearby wilderness areas. She said she would have no employees if it wasn't for those factors, and noted that her business brings in more than $1 million a year from out-of-state buyers alone.
Protect The Flows has nearly 400 business members from the region, all of whom believe that a healthy river is vital to their own economic well-being.
"We represent 400 businesses who need water in the Colorado River to support the economy," said Molly Mugglestone, coordinator of Protect the Flows.
She said all the trends show the river is losing water at a precipitous rate. "Think about the consequences of that," she said. "If we do nothing, the price of water will spike and families will be forced to make drastic changes in how they use water."
Karen Avery, who owns the Box Canyon Lodge and Hot Springs in Ouray, said her business and the economy of Ouray are dependent on a healthy Colorado River system. She said that in Ouray, 80 percent of sales tax revenue comes from visitors.
"Our business depends on a healthy river and a healthy environment. We need healthy flows in the river in order to support our way of life," Avery said.
She said Ouray's year-round population of 900 swells to 3,000 in the summer. "A healthy river makes that possible," she said.
Sarah Sidwell, who manages a rafting business in Moab, Utah, said her business has more than 100 seasonal employees, all of whom rely on the river for their livelihood. "Our stake in this is huge. We need a flowing river for me to have a job. Moab is very dependent on sustaining flows in the Colorado River."
Sidwell said Moab is home to burgeoning high-tech and manufacturing sectors, both of which rely on the outdoor lifestyle created by the river for the bulk of their employees.
"You don't have to spend much time around rivers to understand their importance," U.S. Sen. Mark Udall told the businesspeople.
"Cynics might scoff at the importance of non-consumptive uses," he said, adding that such uses are extremely important not just from a lifestyle point of view but from an economic one. He said the river supports 85,000 jobs and generates $9.5 billion a year in Colorado, numbers slightly higher than those documented by the study, which was limited in its scope.
He said climate change and drought are real concerns in Colorado. "Our economic future depends on preserving our water supply," Udall said.
Sen. Michael Bennet hit on one of his recurrent themes when he told the gathering that politicians in Washington, D.C., are detached from the real lives and real problems of people in the United States.
He said, though, that people in Colorado and the West have a history of rising above their differences in order to work together to solve problems such as those presented by an overtaxed river system.
He said the region depends on "our stewardship" of such natural resources as the Colorado River and the state's natural areas.
According to the study, 1.74 million Coloradans recreate on the river or its tributaries each year. If you looked at the river system as a business, Rob Southwick said the recreational spending by regional residents alone would rank the river #155 on the Fortune 500.
In Colorado, he said, 3.5 percent of the population rely on the river for their jobs.
---

32 Comments on "New study underscores economic might of recreation on Colorado River"