Colorado Roadless Rule better but still flawed, critics say
The preferred plan to manage 4.2 million acres of roadless forests in Colorado will allow for more flexibility than the national rule.
That additional flexibility will allow local communities to protect themselves from wildfires, ski areas to expand and coal mining companies to construct venting for methane in the North Fork Valley of the Gunnison River.
Many residents oppose the Colorado rule, saying it opens too much of the state's best backcountry to coal mining, drilling, and other large-scale activity. The state rule, they argue, is unnecessary after the
10th Circuit Court of Appeals upheld the 2001 National Forest roadless rule
earlier this year.
Colorado is unique, supporters of the state rule say, and deserves its own rule.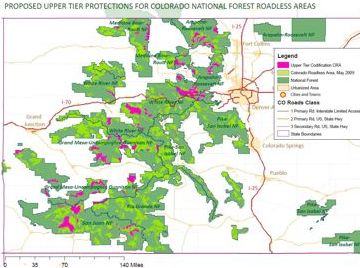 "The new Colorado roadless rule achieves a responsible balance between the development of our public lands and the conservation of Colorado's backcountry," said Gaspar Perricone, co-director of Colorado-based Bull Moose Sportsmen's Alliance. "The protections offered under this new rule will ensure the conservation of pristine habitat and robust fish and game populations that have made Colorado's public lands a destination for generations of sportsmen."
The Colorado rule was deemed the preferred alternative in a final Environmental Impact Statement that was announced last week in Denver's City Park.
"The new rule represents a characteristically Colorado achievement," Gov. John Hickenlooper said. "The rule adds landmark protections to millions of acres of our state's spectacular national forests by incorporating the diverse views of people and businesses across Colorado. The rule enhances all that makes Colorado special while at the same time providing a measure of flexibility that supports local economies and ensures communities can take steps to protect themselves from threats of wildfire."
Forest Service Chief Tom Tidwell said when the new rule is finalized it will increase protection for Colorado's roadless areas "while providing flexibility in management to address the state's interests."
The new rule
has more protections than the 2001 version, including the designation of 1.2 million acres as "upper tier" that will be managed with an increased level of protection for critical wildlife populations and quality wildlife habitat, its supporters say.
There are 363 roadless areas across 4.2 million acres throughout Colorado located in eight national forests that would now be managed under the Colorado roadless rule.
From July 2006 to April 2011 there were five public comment periods resulting in more than 310,000 comments from citizens nationwide. The rule will be finalized a minimum of 30 days after the Final Environmental Impact Statement is published in the Federal Register.
"The rule announced today is an improvement over previous Colorado proposals," said Ted Zukoski, the Denver-based attorney for Earthjustice. "But the Colorado Rule still contains a loophole that allows coal companies to bulldoze roads on 20,000 acres of roadless forests and meadows, and it permits logging in remote areas far from communities. The Colorado rule leaves nearly three million roadless acres vulnerable to more road-building than was allowed under the 2001 national roadless rule. So taken on balance it is a step in the wrong direction."
U.S. Sen. Mark Udall, D-Colo., sent
a letter to President Obama recently
urging him to quickly approve the Colorado rule to alleviate uncertainty for communities and businesses.
"Past delays have led to uncertainty for local businesses and communities, and this should help provide some stability going forward," Udall said Wednesday. "This is a great example of a very thorough process, where thousands of Coloradans and stakeholders came together to work out a framework that makes sense for Colorado. I look forward to taking a closer look at the rule being published today, and to ensure its future implementation continues to benefit Coloradans."
---

6 Comments on "Colorado Roadless Rule better but still flawed, critics say"