Critics say state fracking task force report fails to address many drilling concerns
As oil and gas rigs creep closer to Colorado neighborhoods, it still isn't clear whether local governments can regulate the industry on their own or if they must solely stick to the state's rules.
A task force that Colorado Governor John Hickenlooper
convened to try to defuse the debate issued
a report (pdf)
last week that "recommends a collaborative process" but sidesteps whether new laws are needed. The task force made eight recommendations — namely that a "local government designee" be trained by the state to communicate industry proposals and issues to local officials and the public.
"The Task Force discussed jurisdictional issues regarding substantive regulations but determined that drawing bright lines between state and local jurisdictional authority was neither realistic nor productive," the task force wrote in the report's cover letter.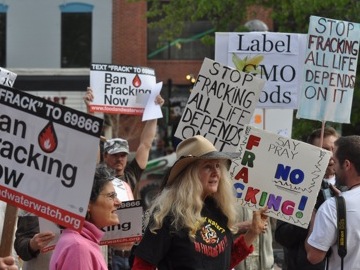 There is still much work to be done. The task force report didn't address key issues such as whether the minimum distance between drilling and residences and schools should be expanded.
A number of communities are drafting new land-use regulations to better mitigate the impacts of energy exploration but Colorado Attorney General John Suthers and the Colorado Oil and Gas Conservation Commission sent letters to them warning that local laws could conflict with state laws.
State rules currently call for drilling setbacks of 150 feet in rural areas and 350 feet in urban areas.
Michael Freeman, an attorney for Earth Justice, said state officials were supposed to begin discussing improved setbacks in 2009. He said he was pleased there was a hearing last week on the setback issue, which isn't likely to be resolved soon. Another overdue issue, he added, is how drillers clean up after themselves. Colorado has a ways to go to increase public confidence in the state's ability to regulate oil and gas. A recent report called the state's regulatory system "inadequate" and soft on polluters.
"There are still a lot of issues that have to be dealt with to make sure public health is protected," Freeman said.
The Colorado Environmental Coalition's Charlie Montgomery called the task force's report "really constructive." He said continued attention to industrial pressures put on residential areas, such as Battlement Mesa on the Western Slope and Erie and Longmont on the Front Range, is critical.
COGCC, which its critics contend is too cozy with industry, is charged with both promoting the extraction business and with protecting against its negative impacts on health and environment.
"We just have to figure out what we can do to try to really do the best job protecting schools, neighborhoods, houses when drilling and fracking is coming in really close to where people live," Montgomery said.
Hydraulic fracturing — aka "fracking" in which water, sand and chemicals are flushed into holes drilled into the earth to break up shale rock and release oil and gas deposits — has ushered in a new era of domestic energy exploration as well as concerns about its impacts on public health and the environment. There have been concerns fracking can contaminate groundwater, and it releases methane — a greenhouse gas more potent than carbon dioxide — into the atmosphere.
Studies show the injection of fracking wastewater into disposal wells can also trigger earthquakes.
The U.S. Environmental Protection Agency issued the first national standards to curb fracking's air pollutants last week. The rules will, beginning in 2015, require all oil and gas companies to capture smog-forming volatile organic compounds that are emitted during the final stages of well construction. The national standards are similar to regulations Colorado and Wyoming already have in place. In other states, those gases are currently released into the atmosphere or burned in a flaring process.
"The EPA's new standards to reduce air pollution utilize existing technology and are a responsible step towards enforcing the Clean Air Act and protecting the air we breathe," U.S. Rep. Diana DeGette, D-Colorado, said in prepared statement. "I look forward to working with the administration, my congressional colleagues and other stakeholders on other initiatives – like my FRAC Act – to improve the safety and efficacy of natural gas extraction and development."
Colorado's oil-and-gas task force convened on March 9 and met once per week through April. Officials said they received 1,600 public comments. Here are the task force's recommendations:
· Encouraging local governments to designate a Local Government Designee (LGD) and to participate in the COGCC's LGD program. Encourage LGDs to communicate industry proposals and issues with local elected officials and the public as soon as possible. However, if there is no LGD, then the municipal or county clerk may be the contact for a local jurisdiction. Providing strong encouragement to oil and gas operators to engage local government officials and the public as early in the COGCC permitting process as possible to solicit input. Initial outreach to the LGDs should occur before the application for permit to drill is filed with the COGCC. Issues to be addressed will vary site-by-site.

· Informing LGDs of opportunity to request additional 10 days to review permits and to request assistance from Colorado Department of Public Health and Environment (CDPHE). COGCC shall inform LGDs if formal consultation with CDPHE or CPW is to occur on a drilling permit application.

· Taking actions to ensure that the two new LGD liaisons at COGCC will be effective in working with local governments, oil and gas operators, and the public.

· Providing for a mutual understanding of oil and gas industry and local government practices by facilitating distribution of accurate information. Local governments, oil and gas operators, and COGCC should collaborate to, for example, identify the potential development impacts, duration of drilling operations, and proposed mitigation to protect public health, safety, welfare and the environment.

· Formalizing and promote opportunities for technical training of LGDs and other training/briefings for the general public. This should include annual training for new LGDs and periodic work sessions for LGDs or local government entities, based on need.

· Providing general education presentations in community forums, covering the entire state periodically.

· Local governments and operators should consider using an Memorandum of Understanding and/or Intergovernmental Agreement, as appropriate, to address issues of local concern (e.g. standard conditions of approval, public outreach, etc.).

· Promoting opportunity for COGCC staff to obtain information regarding local government process and requirements, as appropriate. Local governments are encouraged to notify COGCC early in the process of developing local regulations.
---

1 Comment on "Critics say state fracking task force report fails to address many drilling concerns"