Eagle-Vail's Shiffrin earns second straight Golden Ski Award
The Eastern Ski Writers Association (ESWA) has awarded both Mikaela Shiffrin of Eagle-Vail and Ryan Cochran-Siegle of Starksboro, Vt., the 2012 Don A. Metivier Golden Ski Award.
For Shiffrin, who grew up in the Vail Valley but attended Burke Mountain Academy, this is her second straight award handed out to the top female and male skiers in the East every year since 1969.
The winners will be officially recognized at the New England Ski Museum in Franconia, N.H. on June 1, during a 5-7 p.m. ET ceremony.
"This season has been a whirlwind of experiences," Shiffrin said. "It was all ends of the spectrum. I had a lot of amazing results and I'm really happy to get those in there because it made this season - as my rookie season - worth all the hard work."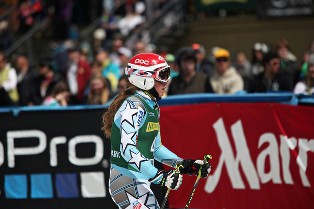 Shiffrin earned an Audi FIS Alpine World Cup slalom podium this winter with third in Lienz, Austria and defended her U.S. slalom title at the Nature Valley U.S. Alpine Championships in Winter Park earlier this month.
"All I can say to young athletes who are aspiring to accomplish great things is you just have to give it everything you have," Shiffrin said. "It's worth it; it's worth every bit of the hard work that you put in."
Cochran-Siegle scored World Cup super-G points in Beaver Creek in December and won gold medals in downhill and combined at the 2012 Junior World Championships in Roccaraso, Italy.
"The Golden Ski Award is the oldest honor given to alpine ski racers that exists today," said Jim Gregory, Chair of the ESWA's Golden Ski Award Committee. "It has been presented to top ski racers from the East since 1969, the year after the modern World Cup circuit started.
"Many of the Golden Ski winners have gone on to World Cup gold as well. We are proud to honor Mikaela Shiffrin and Ryan Cochran-Siegle, two extraordinary athletes, and look forward watching them set the bar even higher as they pursue their careers on the slopes."
Golden Ski History
1969: Tyler Palmer, Karen Middleton
1970: Charles Bent, Karen Middleton
1971: Rod Taylor, Judy McNealus
1972: Laurent Gaudin, Jody Palmer
1973: Jerry McNealus, No female winner
1974: No award
1975: Scott Light, Holly Flanders
1976-2007: Award Lost
2008: Bump Heldman, Julia Ford
2009: Nolan Kasper, Julia Ford
2010: Ryan Cochran-Siegle, Julia Ford
2011: Ryan Cochran-Siegle, Mikaela Shiffrin
2012: Ryan Cochran-Siegle, Mikaela Shiffrin
---

0 Comments on "Eagle-Vail's Shiffrin earns second straight Golden Ski Award"
Be the first to comment below.