New report finds Colorado unprepared for climate change
A shrinking ski season and impaired agriculture industry may be in Colorado's future, but a new report warns the state's preparations for climate change are disjointed and not nearly stringent enough.
The Centennial State faces water supply challenges, more frequent and intense storms, increased flooding and detriment to fish and wildlife,
the Natural Resources Defense Council analysis (pdf)
notes. Yet the report ranks Colorado among a dozen states in its second tier of climate change readiness, trailing overall leader California as well as Alaska, Maryland, Massachusetts, Michigan, New York, Oregon, Pennsylvania and Washington, which are better
preparing for impacts on water
.
There were 15,272 warm temperature records broken in the United States last month alone, according to data the National Oceanic and Atmospheric Administration released today. Every state in the nation broke at least one heat record in March, federal climatologists said. The first three months of 2012 were the warmest on record in the contiguous United States, they added, noting temperatures 6 degrees warmer than the long-term average. March's temperatures were 8.6 degrees above normal.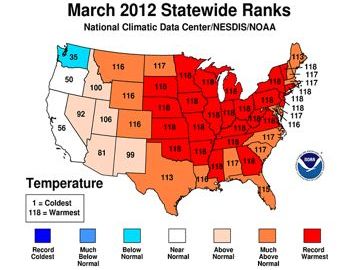 In Colorado and numerous other states where snow-covered slopes equate to an influx of tourist dollars, ski resorts are closing earlier than usual this year, plagued by muddy, grassy terrain. Colorado State University climatologists say 98 percent of the state is experiencing varying levels of drought.
"The potential economic impacts to the state from climate change are significant," the Natural Resources Defense Council report states. "In 2007, winter recreation alone contributed nearly $2 billion to the Colorado economy. Warmer temperatures could lead to less snow and a shortening of the ski season. In fact, a 2006 study projected a loss of 43 percent to 82 percent in April snowpack for Colorado counties with ski resorts by the end of the 21st century."
Escalating temperatures and dwindling water supplies are projected to intensify, according to the report, and together they will put the state's $5.5 billion agricultural industry in jeopardy. This spring, the oil and gas industry outbid farmers at Colorado's premier auction for unallocated water.
Meanwhile, the extended drought is fueling a wildfire season that has gotten off to an early start. Last month's dry conditions have been compared to April 2002, which triggered massive fires across the state. The unusually warm winter is raising the specter of the worst wildfire season in a decade.
It was a scorcher of a winter for many of the lower 48 states. Twenty-five of them, all east of the Rockies, recorded their warmest first quarters ever, and another 16 states ranked it among their 10 hottest. It was the warmest January through March ever for Boston, Chicago and Washington, D.C.
Alaska was the exception to the rule. It had its ninth-coolest January-March period, with temperatures 5.2 degrees below average, NOAA reported. The Last Frontier was slammed with snow this winter.
The Natural Resources Defense Council noted that Colorado released a climate action plan in 2007 that set statewide greenhouse gas emissions goals of 20 percent below 2005 levels by 2020 and 80 percent below 2005 levels by 2050.
"Colorado should implement concrete measures to achieve these pollution reduction goals and lessen the state's contribution to climate change," the report states.
The Colorado Flood Hazard Mitigation Plan does not include climate change considerations, according to the Natural Resources Defense Council, which noted other shortcomings.
"While the Water Conservation Act of 2004 requires all water retailers that sell at least 2,000 acre-feet annually to submit a water conservation plan to the [Colorado Water Conservation Board] for approval, only slightly more than half of these retailers have done so," the report states. "This relatively poor compliance rate indicates that many water retailers lack the capacity to develop conservation plans and/or the state is lacking in its enforcement of this provision."
The report adds: "Colorado should make it a priority to include climate change in future water planning efforts for other river basins in the state beyond just the Colorado River Basin."
---

1 Comment on "New report finds Colorado unprepared for climate change"