Plan to divert water from Green River to Colorado's Front Range bubbles up again
A plan to divert water from Wyoming's Flaming Gorge to Colorado's Front Range is back on the table.
Colorado entrepreneur Aaron Million late last week filed a new application with the Federal Energy Regulatory Commission (FERC), which last month
deemed the proposal premature and short on specifics
.
Million's company, Wyco Power and Water Inc., is requesting a rehearing and clarification for the basis of FERC's dismissal. In paperwork filed Friday (pdf), Wyco argues the order is inconsistent and that it establishes precedents detrimental to future development of hydroelectric facilities in the United States.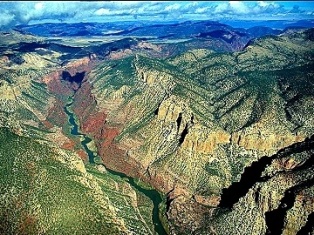 "Wyco contends that it will be counterproductive and cost-prohibitive to secure all necessary permits and authorizations to construct the pipeline without confirming the locations of the associated hydroelectric facilities," the filing says.
Critics say the pipeline would drain 81 billion gallons of water each year from the Green River, a tributary of the already stressed Colorado River, and the state of Colorado projects the pipeline could cost as much as $9 billion to build. The Colorado River Water Conservation District, Wyoming Gov. Matt Mead, county and local governments in southwestern Wyoming and a multitude of conservation groups are opposing the potential pipeline that Million claims is needed for Colorado to meet its rising demand for water.
"FERC made the right decision in February," said Matt Rice, director of the Denver-based chapter of American Rivers. "It is clear this is nothing more than a speculative project that if ever built would severely harm the recreational, economic, agricultural and natural values of the Green River. Mr. Million is grasping for straws. It is highly unlikely that FERC will reverse their decision."
Gary Wockner of Save The Poudre added that "Mr. Million seems to think this process is like an Etch-A-Sketch, where he can just keep shaking and redrawing until he finally wears down the federal agencies and the opposition. The Flaming Gorge Pipeline is a fatally flawed concept that would devastate the Green and Colorado River ecosystems — we will fight it at every opportunity."
The Colorado Water Conservation Board recently funded a "project exploration committee" that is considering the Flaming Gorge pipeline. The task force held its first meeting Jan. 12 in Silverthorne, and it is scheduled to continue meeting to discuss the pipeline through the end of the year.
---

43 Comments on "Plan to divert water from Green River to Colorado's Front Range bubbles up again"