Mild winter has black bears already stirring in Colorado high country
Spring may be only a week or so old, but Colorado Parks and Wildlife managers say that nearly a month before the change of seasons, a few hungry bears were already out looking for food in a favorite but deadly source in Aspen — unsecured trash containers.
"This is one of the mildest winters I have experienced in my 27 years as a wildlife officer, and some bears are out early," said District Wildlife Manager Kevin Wright of Aspen. "That means we have to start doing our part to keep them out of trouble right away."
Aspen's municipal code requires residents and businesses to store trash in wildlife-resistant containers that are secured when not in use. Bears out before spring green-up lack natural food sources, so they will eagerly consume food scraps, bird seed, refuse at construction sites, pet food or just about anything else they can sniff out. With the onset of the warm weather, Aspenites are urged to take immediate steps to remove these attractants from around their homes and businesses.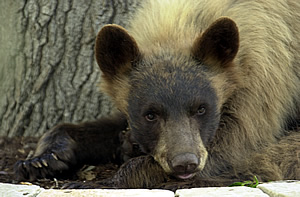 Northwest Regional Manager Ron Velarde said that in the past, wildlife officers tended to err on the side of education over enforcement.
"We've done a tremendous amount of public outreach and education," Velarde said. "Not knowing about the laws and local ordinances isn't a valid excuse anymore."
"We're serious about this," he added. "If you leave your trash where bears can get at it, not only will you be facing stiff fines, you will also be issuing a death warrant for the bear. And you'll be putting yourself, your family and your neighbors at risk of harm."
Black bears are typically not aggressive towards people but can pose a risk if they become habituated to human food. Last year in Colorado, there were at least three reports of injuries from bear attacks across the state, including two in campgrounds near Aspen.
"Luckily, two of the incidents resulted in only minor injuries, but one backcountry camper did suffer serious leg wounds in an attack," Velarde said. "If people do not take this seriously, especially in a community deep in bear habitat like Aspen, we may be looking at a tragic encounter very soon."
In addition to their large size and need to eat, bears have a tremendous sense of smell. They're also very intelligent. While their excellent memories and ability to apply what they've learned to new situations serves them well in the wild, it very often becomes their downfall when they venture into town. Bears that find food around human dwellings will likely return in poor forage years.
While Colorado Parks and Wildlife managers have the discretion to translocate some first-time problem bears, research in Aspen and elsewhere shows that as long as human food remains available, bear conflicts will persist.
One trend worrying wildlife managers is the increase in food-conditioned bears that have learned to break into homes, Wright said. This often puts bears in close contact with people in confined spaces. Colorado Parks and Wildlife deems house-breaking bears to be dangerous and will kill them whenever possible.
"Cubs learn from their mothers where to find human food," said Area Wildlife Manager Perry Will. "Pretty soon, those cubs are teaching their cubs. It's a vicious cycle and unfortunately, it usually ends with a dead bear."
The combination of education and enforcement has proven successful in other resort communities in Summit County. The success of Colorado Parks and Wildlife's Summit County "Bear Aware" public education program has provided a model for the creation of Aspen's own Bear Aware team in 2009. That same year, the city also updated their trash ordinance to require wildlife-resistant trash containers.
Wildlife officials have also provided continual reminders to Aspen residents that their community is in the heart of bear country, and that along with the privilege having a home in one of the most scenic and desirable parts of the state, all residents have a responsibility to protect native wildlife.
Wildlife managers hope that the collaborative focus on education, enforcement and bear population management will pay off with greater community awareness, fewer bear conflicts, and fewer bears needing to be killed.
Wright emphasizes that killing bears is one of the worst parts of being a wildlife officer, however, the reality is that as long as people leave trash and other food sources in the open, he'll most likely have to continue euthanizing bears.
"I can't tell you how frustrating it is to have to kill a bear because a few irresponsible people can't or won't use a little common sense and follow a few simple guidelines," said Wright. "This year, those people are going to start getting tickets."
To avoid fines and live responsibly with wildlife, Aspen residents are once again reminded to obey their local ordinances, and follow these simple steps that have proven effective in reducing the number of bear conflicts in many communities:
- Get informed about your local ordinances regarding trash disposal. Do not put out garbage the night before. Keep garbage in a secure building or a bear-resistant can or dumpster. Wash garbage cans regularly with ammonia to eliminate food odors. If you need more information about approved, bear-resistant containers, check with local authorities.
- Rinse out all cans, bottles and jars so that they are free of food and odors before putting them out for recycling or pick-up. You can also seal smelly items in plastic bags and freeze them before placing them in the trash. This will minimize smells until the trash collector arrives.
- Don't leave pet food or pet dishes outside. Feed pets indoors.
- Avoid using bird feeders during the warmer months when bears are active.
- Thoroughly clean outdoor grills after each use. The smell of grease can attract bears.
- Pick ripe fruit from trees and off the ground. You may also consider eliminating all fruit trees.
- Close and lock doors and windows, especially on ground-level floors when you are not at home, or at night.
- Replace all exterior lever style door handles with conventional round knobs. Bears can easily manipulate lever door handles.
- Don't leave food in your car. Bears are strong enough to pry open car doors. Lock your vehicle when not in use.
- Should a bear appear in a residential area, make the bear feel unwelcome by yelling, making noise and throwing objects. Bears will typically leave if confronted.
- Never feed, approach or harass any wildlife. Always watch wildlife from a distance, and enjoy the experience, safely.
For more information about living in bear country, please go to: http://wildlife.state.co.us/WildlifeSpecies/LivingWithWildlife/Mammals/Pages/LivingWithBearsL1.aspx
For more information about bears from the city of Aspen, please visit: http://www.aspenpitkin.com/Departments/Police/Aspen-Bears/
---

1 Comment on "Mild winter has black bears already stirring in Colorado high country"