Flame chef Jason Harrison returns to his Rocky Mountain roots with a broad culinary worldview
Jason Harrison, the first executive chef of the Four Seasons Vail, is once again elevating his culinary game after a stint in the desert of Las Vegas. The Ottawa-born Harrison is happy to be home again in the Rocky Mountains after spending much of his earlier career in the kitchens of top resort hotels in Banff, Lake Louise and Jasper, Alberta.
"It's been fantastic. I'm living in a dream location and I have a dream kitchen," Harrison said of his return to the Rocky Mountain lifestyle. "I just fell in love with the people, the attitude toward life, and the fact that when you look outside it really inspires you."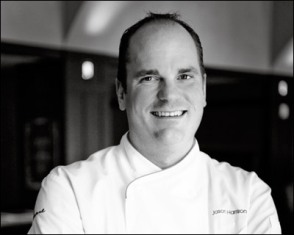 Creating meals on a much smaller scale than his previous venue in Vegas also has inspired Harrison, who prides himself on finding ingredients from small producers as close to Vail as possible. Sixty percent of the organic vegetables at Flame and the hotel's other eateries were grown in Colorado, and Harrison gets all of Flame's trout, rabbit, pork and lamb in-state.
"The freshness is a key, but I also go after the suppliers who are able to provide the quality that I want," says Harrison, who has had to expand his horizons a bit. The farthest west the maple belt extends is Indiana, so that's where the chef found the hotel's syrup.
But some things are right outside the door. Last summer Flame served a Vail Farmer's Market salad that relied on Colorado fruits and vegetables hand-selected from booths at the popular weekend market. The only challenge was Colorado's record-breaking snow year last ski season shortened the growing season – but that's a good problem to have at a ski-resort hotel.
"Trust me, I'm not complaining, because it was my first year back in the mountains and I had seven powder days last year," Harrison says with an easy laugh. "It was fantastic."
An avid hockey player, Harrison is elated to be back in a winter-sports mecca like Vail, mountain biking in summer and skiing when he can in the winter. He naturally understands what draws people from around the globe to a world-class mountain resort destination like Vail. And he has a very good idea what people want to eat after a long day outdoors at high altitude.
This winter Flame once again offered its acclaimed bone-in short ribs served with a blue cheese bread pudding. Also this season, bison osso buco (Italian for bone with a hole) was served for two in a cast-iron pot, along with a sweet potato and foie gras hash, roasted beets and other hearty winter vegetables.
Harrison also knows that the palates of many mountain dwellers and guests have become more refined over the years, requiring a greater diversity of influences than the traditional elk medallion and rack-of-lamb fare found in many alpine environs.
Flame serves some curry dishes – including a butternut squash soup with curry, coconut milk and lobster – and a hearty noodle dish just for snow riders who need to be simultaneously warmed up and filled up and returned to the slopes. But perhaps Harrison's favorite menu item, given his intermittent cravings for Indian and other Asian foods, is a bison pot sticker with a hand-made pinot noir mustard.
"I'm going to start throwing those little hints and influences in there," Harrison says. "We're going to start getting a little bit creative here and having some fun with it because we do have a transient guest who wants to branch out once in a while."
Go to
www.flamerestaurantvail.com
or call 970-477-8650 to make a reservation.
---

90 Comments on "Flame chef Jason Harrison returns to his Rocky Mountain roots with a broad culinary worldview "