New report skewers Colorado oil and gas regulators for failing to enforce rules
State officials fire back, saying regulators 'work diligently, responsibly'
A new report blasts the state agency charged with regulating the oil and gas industry for failing to enforce its own rules.
There were 516 spills in 2011 but the Colorado Oil and Gas Conservation Commission (COGCC) only assessed five fines, according to the report that Earthworks released this week.
"The COGCC's mission is to foster responsible oil and gas development by balancing drilling with protection of landowners, public health, and the environment," Gwen Lachelt, the director of Earthworks' Oil & Gas Accountability Project, said in a prepared statement. "Right now, the COGCC's rules, like its mission statement, are just empty words on a page. There is no balance here."
As the number of wells drilled increases in Colorado, the number of inspections is decreasing, the report found, noting it is physically impossible for existing COGCC staff to annually inspect every well. The report also claims many rule violations are not recorded. The few who are penalized are subject to maximum fines of $1,000 per day, which the report deems "inadequate to deter irresponsible operations."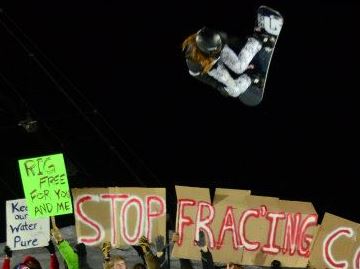 "There is always room for improvement in anything that we do," Colorado Department of Natural Resources spokesman Todd Hartman said on behalf of COGCC. "At the same time, the issues addressed in the report today are not simple. We are and will continue to be aggressive in our enforcement when operators take actions that pose significant threats to the environment and public health." COGCC's staff, he added, "works diligently, responsibly and effectively to ensure protection of the public and environment from any potential impacts of oil and gas development in Colorado. We enforce the most comprehensive set of oil and gas regulations in the country, including, beginning April 1, the strongest and most transparent hydraulic fracturing chemical disclosure rules yet adopted in any state."
The Earthworks report comes amid heated debate about whether local governments should be able to make their own laws regarding oil and gas drilling. Competing bills — one introduced by a Democrat to empower local governments and another one introduced by a Republican to solely empower COGCC — died at the state capitol. Gov. John Hickenlooper recently convened a task force to "help clarify and better coordinate" the regulatory jurisdiction between state and local governments.
The task force's findings are due April 18.
Boulder County, Longmont and Colorado Springs have temporarily halted drilling activity. Commerce City, Erie and Aurora, Arapahoe County, Douglas County, Elbert County, El Paso County and Huerfano County are vying for their own regulations.
The proliferation of hydraulic fracturing, or "fracking," is fueling much of the community concern.
The U.S. Environmental Protection Agency is studying the risks that fracking poses to drinking water after complaints have been made in Colorado, Wyoming and other states.
This week the University of Colorado-Denver School of Public Health announced that an analysis of residents in Garfield County living within a half-mile of oil and gas fracking operations found they have been exposed to air pollution five times above the federal hazard limit.
U.S. Reps. Diana DeGette and Jared Polis, both Democrats from Colorado, have asked President Obama to strengthen environmental and public health standards to protect against fracking.
"COGCC's inadequate performance shows why citizens need to have federal standards, as well as state regulations," Earthworks' policy director Lauren Pagel said. "In Colorado's case, state regulation means inadequate regulation, and therefore, irresponsible development."
She recommended that COGCC increase its inspection staff, standardize and publicize inspections, and increase fines for violations.
COGCC has doubled its staff size over the past seven years during hard economic times, responded Hartman, and the agency will hire an additional seven people, including two more inspectors, over the next fiscal year at a time when government agencies continue to cut budgets.
Moreover, COGCC's website is "perhaps the most open and informative in the country, with wholesale public access to documents associated with complaints, inspections and alleged violations – as well as all follow-up documents that follow from those," Hartman noted. "We publish updated statistics monthly on a wealth of material, including violations, complaints, spills, remediation and inspections."
Still, critics remain.
Last month, 18 conservation and citizen activist groups questioned the ties between industry and regulators at the COGCC and asked Hickenlooper to improve the state's oversight.
The Earthworks report is just the latest to question Colorado's ability to regulate the energy industry.
The U.S. Nuclear Regulatory Commission last week criticized the Colorado Department of Public Health and Environment for its oversight of radioactive materials. State officials strongly defended their processes and called the Nuclear Regulatory Commission's comments "unprofessional."
---

0 Comments on "New report skewers Colorado oil and gas regulators for failing to enforce rules"
Be the first to comment below.