Roaring Fork Anglers helps heat up Colorado River fishing ' even in March
NEW CASTLE -- A blue-winged olive buzzed close to the water, rode the breeze along the bank, and perched like a trained pet on the thumb of veteran angler John Harcourt.
Harcourt watched it fly away, then called out to his son, Dustin, and his seven-year-old grandson, Drake, who were working an eddy seam just downriver.
"We might do some dry-fly fishing after all," he said with the kind of smile that has spring fever written all over it.
The terms "dry fly" and "March fishing" aren't often mixed together in discussions of Colorado's rivers and streams, but along the wide-open, easily accessible stretches of the Colorado River from Glenwood Springs to Rifle, a sunny March afternoon feels like a mid-summer's day to a fisherman, especially if he's got a healthy dose of cabin fever.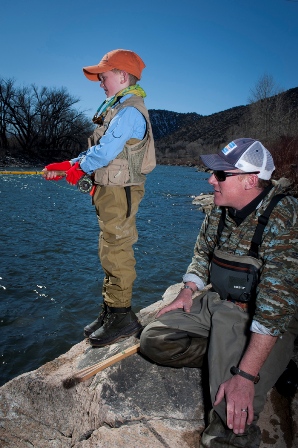 Which may explain why there were likely more than the average number of March fisher folk out on the water this past weekend. Once the winds died down, and the sun came out, so did the midges and blue-winged olives.
And so did the Harcourt family, known in the neighborhood as the first family of fly fishing in what is likely Colorado's best place to be a true fish-o-phile. Three generations of Harcourts fish this stretch of the Colorado in late winter and spring, working the pools and eddies before the water turns muddy with runoff and they migrate to other waters.
That blue-winged olive was certainly not the only one of his kind, and a little dry-fly fishing was there for the taking, but the real action this time of year is with midges, along the bottom, where the big fish are still slow and lazy in chilly winter water.
The rest is up to the angler, who must figure out just where to cast, just what pattern to try, and how deep to drop that nymph.
"Every day the recipe is just a little bit different. Today's hot ticket might not be yesterday's hot ticket, but it's just the coolest chess game on earth," said Dustin Harcourt, who is well-known in angling circles for guiding celebrities and luminaries along his home waters. "If it was always the same I would've quit years and years ago."
Harcourt said 2012 has proven to be an especially interesting year. A big-water year in 2011 brought flows up to 30,000 cubic feet per second (cfs) barreling down South Canyon and downstream toward Rifle. The high-water mark nearly spills up onto I-70, which hugs the river through most of that stretch.
Big water changed the shape of the river, moved giant boulders half a mile downstream, and even changed the location of some spawning beds. This changes the rules of the chess game – in fact it changes the board – so even veteran guides like Dustin have lost old favorite spots, even as they find new ones where the Colorado's hefty trout are hiding.
An ultra-low water year may be what's next. Snowpack in the Colorado River basin is hovering dangerously close to 50 and 60 percent.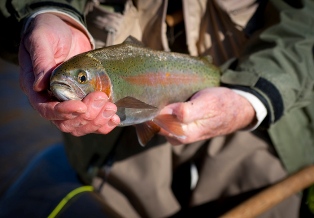 It was hard not to notice, even as the Harcourts tried a few roll casts with a burly, 12-foot rod, that the coal seam which caused a massive 2002 wildfire still quietly smoldered halfway up the hillside along the river's left bank. If warm weather prevails, Colorado could be looking at another year similar to 2002, when severe drought and a lack of moisture created warm water and high stress for the river's fish ecology – not to mention record-setting wildfires.
On a warm afternoon on the Colorado, however, it's hard to interpret the signs as anything but positive. It certainly seems that John Harcourt's friendly blue-winged olives, which flew in abundance during the warmest part of the day, are a good omen. Even if they're not, such signs bear good tidings of the fishing right here and now on the Colorado River, which is just about as good as it gets.
IF YOU GO: To fish with Dustin Harcourt, or learn more about fishing in the Aspen and Glenwood Area, visit Roaring Fork Anglers and Alpine Angling at www.roaringforkanglers.com, or call 970 945-0180 or 800 781-8120.
---

2 Comments on "Roaring Fork Anglers helps heat up Colorado River fishing ' even in March"