Senate shoots down wind energy credit, increased oil shale exploration, ANWR drilling
Another attempt to extend a tax credit that helps keep wind turbines turning in Colorado and beyond failed in the Senate last week. But so did a bid would have opened up 2 million acres of public land in Colorado, Utah and Wyoming to oil shale exploration.
The wind energy production tax credit (PTC) was wrapped into a compromise transportation package featuring 20 amendments that would have awarded breaks for energy efficient homes, biofuels and other measures sponsored by Sen. Debbie Stabenow, D-Mich. The package, which needed 60 votes to pass, failed by a vote of 49-49.
U.S. Senator Michael Bennet, D-Colorado, said the state stands "to suffer a huge economic blow if Congress can't get its act together and extend this critical tax credit. With thousands of high-quality jobs at stake across our state and the entire country, we need to provide certainty for this industry, so we do not derail its current growth," he said.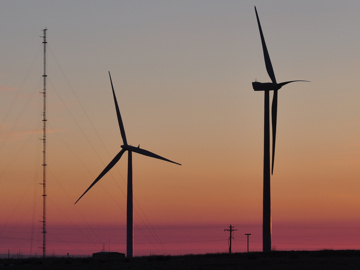 There are more than 5,000 wind industry jobs in Colorado, according to Interwest Energy Alliance, and the state is the nation's eighth-largest generator of wind power and hosts the world's leading national laboratory in wind and other renewable energy technologies.
If the tax credit expires at the end of the year, the state's wind energy sector could crash.
"In fact, a crash is already beginning," Sen. Mark Udall, D-Colorado, said in a prepared statement. "Vestas may lay off more than 80 percent of its workforce in Colorado if the PTC is not extended soon. I'm fighting every day for this extension, and we need to do it now. This isn't something we can afford to put on the backburner until the last minute."
All of Colorado's congressional delegation except Republican Congressman Doug Lamborn say they want to extend the wind tax credit, which debuted in 1992. The credit could still be tied to other bills or come as stand-alone legislation. It has lapsed in the past only to be resurrected later.
The Senate last week also denied a bill that would have authorized up to 2 million acres of public land for oil shale exploration in Colorado, Utah and Wyoming — not to mention open the Arctic National Wildlife Refuge and other protected areas to drilling.
Sen. Pat Roberts, R-Kansas, sponsored the amendment, which failed 41-57. If approved, it would have also green-lighted construction of the controversial Keystone pipeline project.
"After taking $429,800 from Big Oil, Sen. Roberts has wrapped every giveaway he can think of into one amendment — including a 2 million acre handout for oil shale speculation," Checks and Balances Project Co-Director Matt Garrington said in Denver. "Sen. Roberts clearly isn't serious about fixing our nation's crumbling roads and bridges, or he wouldn't be trying to solve our transportation and energy needs with an oil shale industry that does not exist."
The senatorial smackdown comes after the House passed a similar bill in February, as part of Speaker Boehner's much-maligned transportation package. Lamborn crafted the oil shale legislation, which runs counter to the Department of Interior's plan to dramatically scale back available federal land for that type of energy exploration.
Oil shale is not the same as shale oil, which is oil trapped in rock formations. Oil shale doesn't contain any oil at all and instead holds kerogen, or fossilized algae, that requires an extensive heating process for it to be extracted from the rock and refined into oil. Environmentalists strongly oppose oil shale as an energy source because of its dirty emissions and the vast amount of water it requires to produce.
The Congressional Budget Office projected the oil shale bill would have no real positive effect on government revenue and over 10 years, it could leave the highway trust fund $78 billion in debt.
Days after the House passed the bill, Chevron announced it was divesting its oil shale research in Colorado to pursue more profitable projects. For now, U.S. oil shale is not commercially viable.
The Senate's denial was the first time in four years it has voted on Arctic National Wildlife Refuge drilling. As for the proposed Keystone XL pipeline, President Obama has denied it for the time being but Republicans have been trying to push it through every chance they get. The pipeline would transport oil from Canada's oil sands through the United States to refineries along the Gulf Coast.
---

96 Comments on "Senate shoots down wind energy credit, increased oil shale exploration, ANWR drilling"