Vonn sixth in final super-G, edging 40 points closer to record 2,000
Vail's Lindsey Vonn locked up yet another discipline title today – her fourth of the season and 16th of her career – by finishing sixth in the World Cup Finals super-G in Schladming, Austria.
The former Ski and Snowboard Club Vail racer picked up another 40 points in a race won by Germany's Viktoria Rebensburg, edging Vonn ever closer to both the men's and women's season World Cup points record.
Vonn now has 1,948 points, just 22 behind the Janica Kostelic's 2006 record of 1,970 points and just 52 points behind Hermann Maier's 2000 record of 2,000 points.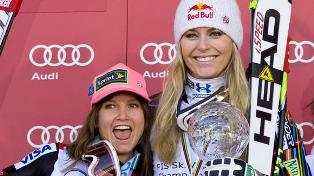 "I still got the super-G globe, so I am happy about that," Vonn said. "I just didn't quite get the 2,000 points. But I still have two races left, and hopefully I can still get it."
But those two races – giant slalom and slalom -- are Vonn's two weakest disciplines. While she's won two GS races this season, including last weekend in Are, Sweden, Vonn has yet to win a slalom race so far in 2011-12.
Squaw Valley's Julia Mancuso was second in today's race to finish the season second in the super-G standings and jump to fourth in the overall points. Vonn has already clinched the overall title – her American record fourth.
Leanne Smith, of North Conway, N.H., finished ahead of Vonn in fifth today, her career best.
Vonn scrubbed a 1.22 second lead after her speed carried her too low into a turn near the bottom of the course.
"I thought I had a really good run going," Vonn said. "Conditions were tough. It was soft again today with really warm temperatures. I think I had more speed than the coaches anticipated on the bottom and I went too straight into a turn and couldn't hold the line. Sometimes it happens."
In men's action in Schladming, Park City's Ted Ligety turned in his season-best finish in super-G, racing out of the 26th position to claim 10th today.
Italy's Christof Innerhofer won today's race, but Aksel Lund Svindal of Norway claimed the discipline title with a 16th-place finish.
The overall World Cup title chase took an interesting twist when Austrian Marcel Hirscher finished third to edge closer to Swiss overall leader Beat Feuz, who crashed out mid course. Hirscher is now 75 points back with two races remaining.
Ligety is still mathematically in the running for a fourth straight giant slalom discipline title with a 92-point deficit to Hirscher.
"It's pretty easy for me in the sense that there is only one option for the giant slalom," Ligety said. "I have to win and Hirscher has to go out. You never know what is going to happen with the pressure of the last race of the year with the overall in his sights, so we will see how it goes."
---

2 Comments on "Vonn sixth in final super-G, edging 40 points closer to record 2,000"