Vail's Vonn snags GS win, claims American record fourth overall title
Vail's Lindsey Vonn today won a giant slalom in Are, Sweden, to clinch her American record fourth overall World Cup title.
The win was an American record 11th for Vonn this season and the 52nd of her career. The Ski and Snowboard Club Vail racer is now second only to Austrian great Annemarie Moser-Proell in both overall title victories (six) and career wins (62).
Vonn focused on technical events (slalom and GS) this season in order to avoid having the overall chase come down to the season-ending World Cup Finals. Last season at finals in Lenzerheide, Switzerland, she was edged out for the overall title by German rival Maria Hoefl-Riesch when the last race was cancelled due to weather conditions.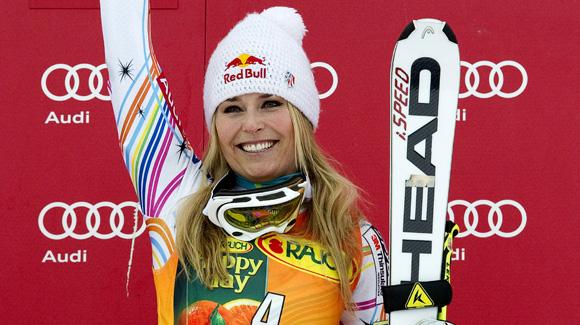 "It's definitely a lot less stressful to clinch the overall title before the finals," Vonn said today after building an insurmountable 554-point lead in the overall hunt with just five races remaining. "Last year at the (Lenzerheide) finals, I might have lost a few years of my life."
Vonn's closest pursuer for the overall title, Slovenia's Tina Maze, finished sixth today. Coming into the season, Vonn had never won a World Cup GS. She collected two victories and is in contention for the discipline title heading into World Cup Finals in Schladming, Austria, next weekend. She can also add the super-G globe to a collection of season titles that already includes the super combined and downhill globes.
"I just wanted to have two really aggressive runs today," Vonn said. "I had nothing to lose. I'm just having fun. My sister is here and my teammates are so cool cheering me on in the finish. It's amazing to have so much support. I love my teammates. Only a couple of more races left and we will get to celebrate this year."
The overall title is considered the greatest accomplishment for ski racers because it demands season-long consistency, with points awarded in descending order: 100 for first, 80 for second, 60 for third, and so on. Vonn now holds the American record of 1,808 points in a single season.
Croatian great Janica Kostelic holds the women's single-season point record with 1.970 in 2006, and Austrian Hermann Maier holds the men's record with 2,000 points in 2000. With strong finishes in the next five races, Vonn can break both marks.
"Anything is possible, but it's going to be really difficult [to reach 2000 points," Vonn said. "I'm going to have to execute in every race and seize the opportunity like I did today. I've got three big chances to make the top three in the downhill, super-G and the giant slalom [in Schladming]. But I'm going to have to execute."
A slalom Saturday closes action in Are before the tour moves to Schladming for World Cup Finals next weekend.
---

48 Comments on "Vail's Vonn snags GS win, claims American record fourth overall title"