Vail's Vonn on verge of record-shattering fourth overall World Cup title
Vail's Lindsey Vonn is on the verge of doing something no other American ski racer – male or female – has ever done. With a strong showing in Friday's giant slalom in Are, Sweden, Vonn will lock up her fourth overall World Cup title.
Vonn is currently tied with the legendary Phil Mahre for the most overall World Cup titles (three) by an American. Tamara McKinney, who claimed the overall title once (in 1983), is the only other American woman to accomplish the feat.
This past weekend in Ofterschwang, Germany, Vonn effectively if not technically put the race for the season-long title away, eliminating last season's winner, Maria Hoefl-Riesch. The German racer ended Vonn's run of three consecutive titles last season by a handful of points when the final race of the year was cancelled due to weather.
Hoefl-Riesch needs 633 points to catch Vonn, an impossibility given there are only six races remaining this season. Each World Cup win is worth 100 points.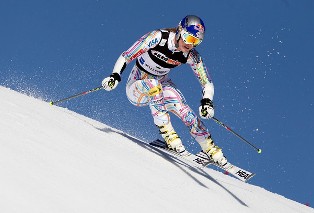 Vonn emphasized giant slalom this season – an event she had never won on the circuit – and now she sits second in the chase for that discipline title, with two GS races remaining. Vonn has already won the downhill, super-G and super-combined season titles.
But the overall title is the Holy Grail for ski racers. It's a sign of season-long consistency, scoring points and winning in all five disciplines from October to March. American fans tend to obsess with Olympic medals, but ski racers all covet the overall title. Bode Miller is the only other American who's won an overall, having accomplished the feat twice in his storied career.
With a second-place finish in Saturday's GS in Ofterschwang, Vonn became the first racer ever with four seasons of 15 or more World Cup podiums (top three), breaking a tie with Austrian great Hermann Maier.
While continuing to dominate in the speed events of downhill and super-G, including a win on the men's Birds of Prey course at Beaver Creek in December, Vonn has officially added GS to her repertoire this season. She's racked up 355 points in the discipline, including a win (her first ever) in the season opener in Soelden, Austria.
The Ski and Snowboard Club Vail product now stands at 1,708 points on the season, within reach of the 1,970-point women's record set by Croatian Janica Kostelic in 2006 and the 2,000-point men's record set by Maier in 2000.
"I have been thinking about the 2,000 point mark since about the St. Moritz races," Vonn said. "I am not focusing too much on it, but it is definitely in the back of my mind. This year the tech races have been going well and now I'm second in the giant slalom standings. To me, that is a huge accomplishment."
Vonn's personal record of 1,788 points in a season was set when she won the overall title in 2009. She could have added to that total with a top 30 result in Sunday's slalom, but skied out and didn't finish.
Fortunately for her, the only woman with a shot at catching Vonn for the overall title, Tina Maze of Slovenia, also registered a DNF and wasn't able to close the current 494-point gap. If Vonn can finish ahead of Maze on Friday, she'll build an insurmountable 500-plus-point lead heading into Saturday's slalom. That would lock up the overall title with five races left.
If that happens, there will be no drama on the women's side heading into the World Cup Finals in Schladming, Austria, March 14-18.
---

2 Comments on "Vail's Vonn on verge of record-shattering fourth overall World Cup title"