Lawmakers look to electronic waste recycling to generate jobs, protect environment
DENVER — Colorado lawmakers are searching everywhere for ways to create jobs — even landfills.
The state Senate passed the Electronic Recycling Jobs Act on Wednesday by a vote of 28-6. Afterward, the bill's sponsor, state Sen. Gail Schwartz, D-Snowmass Village, took to the steps of the State Capitol with representatives from the recycling industry who brought bins filled with antiquated faxes, printers, computers and other electronics.
Gold, silver, copper, aluminum and other valuable metals are often found in the gadgets consumers toss in the trash. The devices also contain chemicals harmful to the environment.
The bill "creates new opportunities for the recycling and responsible disposal of the electronics we all enjoy, while reducing waste, protecting our groundwater and recovering resources," Schwartz said.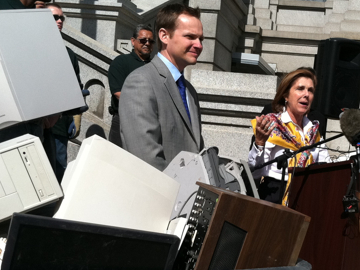 "It's important we don't put jobs and resources in the trash can," she said.
Electronic waste is already clogging up Colorado's landfills and, Schwartz noted, a Cisco study predicts that by the year 2020, there will be 50 billion mobile-connected electronic devices on the planet. By banning certain electronics from landfills — computers, televisions, DVD players, cell phones and so on — the burgeoning electronics recycling industry in the state could really take off. The bill would direct state agencies to use a certified recycling firm for electronics by July 1, 2013.
Colorado businesses and households are currently throwing away between 40,000 and 161,000 tons of electronic waste a year and only recycling 8,000 tons, legislators said. For every 10,000 tons of electronic waste recycled, at least 130 jobs are created with the possibility of twice that many, according to Colorado Conservation Voters. A ban has the potential to create 2,500 jobs, they said.
Seventeen other states already have laws similar to the one that passed the state Senate on Wednesday. The bill next moves to the House, where it enjoys bipartisan support.
"The Electronic Recycling Jobs Act puts into place a market-driven approach that strengthens local economies, provides for the reuse of valuable raw materials from electronic waste and creates jobs and keeps harmful materials out of our landfills," said state Rep. Don Coram, R-Montrose, the bill's House sponsor. "It's good for business and it's good for Colorado families."
Small business owners also came out to promote the legislation.
Henry Renteria-Vigil with R-2 Stewardship said the electronics industry is growing in Colorado.
"Seven years ago, before I started my business, I was on welfare and now I just made my first million," Renteria-Vigil said. "With this landfill ban ... more electronic waste will be diverted from our landfills and into our businesses. I will be able to hire more employees."
Eric Anderson with Metech Recycling estimated his company's workforce in Colorado would grow from 73 to 100 within just a few months of the law taking effect and, later on, it might quadruple.
"A new ban on electronic waste in landfills," Anderson said, "will drive more material into recycling so facilities like ours will add jobs and expand, providing greater access to recycling for Coloradans and Colorado businesses."
---

0 Comments on "Lawmakers look to electronic waste recycling to generate jobs, protect environment"
Be the first to comment below.