Miller hangs it up for the season after knee surgery in Vail
Bode Miller, the greatest American male ski racer of all time, pulled the plug on his 2011-12 World Cup season today after continuing discomfort following arthroscopic knee surgery last week in Vail.
Miller injured his left knee earlier this month when he finished just off the podium in fourth place in a downhill at Rosa Khutor, the alpine ski racing venue for the 2014 Winter Olympics in Sochi, Russia. He then tried to ski through the injury in Bansko, Bulgaria, the following weekend.
The five-time Olympic medalist then returned to Colorado, where he had the knee evaluated and eventually
operated on last Monday
in Vail. Miller returned to Europe in hopes of racing last weekend in Crans Montana,, Switzerland, but had to sit out the event due to ongoing discomfort.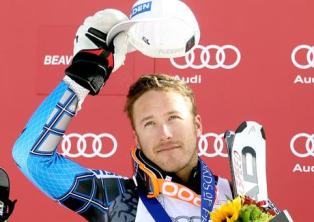 "The plan was to come back and race in Crans Montana, but I couldn't get the range of motion that I needed out of my knee to be competitive," Miller said. "We thought if I rested a few more days, things would come around, but it didn't happen."
The 34-year-old five-time world champion will undergo further arthroscopy on the knee and immediately begin his recovery.
With two overall titles and 33 regular-season World Cup victories -- the most ever by an American man -- Miller is widely considered the best U.S. racer of all time. He apparently is not considering retirement at this point.
"I love ski racing and I love being active, so I hope for a solid recovery and to get back to training as soon as possible," Miller said. "I'm still having fun, and as long as skiing is enjoyable, I'm going to continue to do it."
The highlight of Miller's season was yet another downhill win on the famed Birds of Prey course at Beaver Creek in December -- his fourth victory at the venue 10 miles west of Vail.
"It was a good season for me," Miller said. "Winning again at Beaver Creek was pretty special, and it was cool to get a chance to check out the Olympic hill in Sochi. The mountain is world class – it's as nice as any of the places we ever go, and I think it's going to be amazing to host for the Olympics."
If Miller continues to compete until the Sochi Games, he will be 36 years old and it would be his fifth Olympic team.
"Bode makes an incredible contribution to the ski racing community at large," said U.S. head coach Sasha Rearick, "He has fans all over the world and people come to ski races just to see Bode. He inspires people from all countries and all ages to get fired up for our sport and he wants to continue to do what he loves."
---

2 Comments on "Miller hangs it up for the season after knee surgery in Vail"