Vonn recovers for record 18th World Cup super-G win
Vail's Lindsey Vonn mounted an astounding comeback on the lower half of a World Cup super-G course in Bankso, Bulgaria, today to collect her 10th win of the season and the all-time record 18th super-G win of her career.
Vonn was .61 seconds back near mid-course when she hit a bump, threw her skis sideways and seemed to be eliminated from the podium. But the Ski and Snowboard Club Vail racer stomped on the accelerator and hammered the lower part of the course for a .05-second victory over Tina Weirather of Lichtenstein.
"I tried to give myself a lot of direction for that gate because I was on a pretty bumpy side hill, and I just hit one of the bumps funny and went shooting downhill in the opposite direction that I wanted," Vonn said. "I was way offline and had to chuck it sideways, but thankfully the pitch was pretty steep and I was able to accelerate out of that mistake.
"I had to really push the line and take a lot of risk from there down. It was a little bit more direct than I had inspected. I would have liked to have not risked that much, but it worked out."
Vonn's historic 18th career super-G win vaults her past retired Austrian great Renate Goetschl in the women's World Cup tour record books.
"I didn't know that I had passed Renate for super-G wins," Vonn said. "That definitely feels good. I think that's the only record that I'm at the top of for World Cup."
Vonn's 10th overall win this season (51st of her career) gives her a 94-point super-G discipline lead going into the season's last race at World Cup Finals in Schladming, Austria, next month.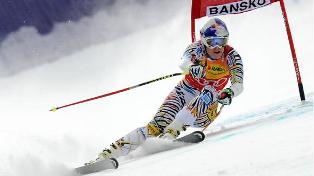 Having already won the discipline titles in downhill and super combined, Vonn will be gunning for her third globe of the season in that final super-G race of the season. More importantly, she upped her lead in the chase for the overall title to a commanding 528 points over Slovenia's Tina Maze, who finished just off the podium in fourth today.
With just nine races left on the schedule -- including all four disciplines at World Cup Finals -- Vonn is poised to collect her American record fourth overall title. However, seven of the final nine races are the tech events of slalom and giant slalom, where Vonn has just one win so far this season (in the GS opener in Soelden, Austria, in October).
"There's a lot of giant slalom races left, so I'm looking forward to hopefully get another win this season to try and get the giant slalom globe," Vonn said. "But today was big points for the super-G title and again for the overall title. Things are shaping up really well."
There are just two of her specialty speed events of downhill and super-G remaining -- both at World Cup Finals. With two more wins, Vonn will break her own American record of 11 World Cup wins in one season.
The World Cup tour now moves to Ofterschwang, Germany, next weekend for two giant slalom races and a slalom. The following weekend a GS and slalom are scheduled for Are, Sweden. Then it's the World Cup Finals in Schladming.
---

2 Comments on "Vonn recovers for record 18th World Cup super-G win"