Mancuso claims Moscow night slalom as Vail's Vonn finishes third
Julia Mancuso won a head-to-head parallel slalom under the lights in Moscow tonight as her teammate, Vail's Lindsey Vonn, took third to increase her commanding overall World Cup lead.
Vonn picked up 60 points on her nearest pursuer for the overall title, Tina Maze of Slovenia. In the quest for her American record fourth overall title, Vonn now leads Maze 1,502 points to 1,024.
Vonn came from behind on the ramp built in the 1980 Luznhiki Olympic Complex to beat Germany's Maria Hoefl-Riesch, who won the overall title last season and now trails Vonn by 496 points with the season winding down.
"After my first run against Maria, I didn't think that I'd make the podium -- I was three tenths behind and I made it back," Vonn said. "I think my last run was the best run of the day and that's what put me on the podium."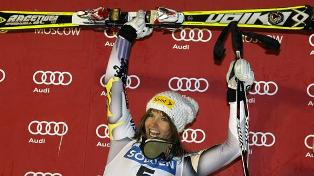 For Squaw Valley's Mancuso, tonight was her second World Cup victory this season and the seventh of her career.
"Events like this are really exciting, anything can happen," Mancuso said. "You're bummed out if you lose, and when you win, it's a big surprise. I knew that if you can have a good start, you can make up any amount of time, so I really focused on my start."
The bracket-style competition was held on a 170-foot-tall, 535-foot-long man-made ramp. Each match featured two runs, with the fastest racer from the first run earning a time advantage for the second run.
Mancuso knocked out Vonn in the semifinal and Austrian Mikaela Kirchgasser in the final to win.
"Kirchi [Mikaela Kirchgasser] is a great slalom skier, and she was really skiing fast in her heats, so I just had to plow down those gates," said Mancuso, a three-time Olympic medalist. Kirchgasser finished second.
Vonn was down .30 to Hoefl-Riesch after the first run of the small final, but won the second run and knocked her friend and rival off the podium.
"I'm excited to be on the podium today, but I'm also really happy for Jules for winning," Vonn said. "She skied amazing. These parallel events are really tough. You can't think about it, you just have to go for it."
The event was presented by Soelden, Austria, the official European training base of the U.S. Ski Team. It capped a successful showcase of alpine skiing in Russia, host country for the 2014 Olympic Winter Games.
"I think it's really cool for everyone who lives in cities to see events like this and to have exposure to ski racing," Mancuso said. "It's also cool to have big ski resorts like Soelden sponsoring things like this to show that the ski world is incredible.
"I hope we have more city events. This helps bring the skiing to the people and helps inspire them to go out and take that ski vacation that they've been dreaming to do."
On the heels of her third-place finish in a downhill at Rosa Khutor near Sochi last weekend, Vonn said she's coming away with an overall favorable impression of the host country for the 2014 Games.
"I wasn't really sure what it was going to be like in Russia, and I was pleasantly surprised," Vonn said. "These races were a lot of fun and I can see now how excited this country is about ski racing, and I think that's only going to increase as we get closer to the Olympics in 2014."
Frenchman Alexis Pinterault won the men's event tonight in Moscow as Ted Ligety, of Park City, Utah, was knocked out in the first round.
The women's World Cup moves to Bansko, Bulgaria, while the men race in Crans Montana, Switzerland.
---

18 Comments on "Mancuso claims Moscow night slalom as Vail's Vonn finishes third"