Eagle-Vail's Shiffrin 10th in World Cup slalom as Vonn fails to finish
Eagle-Vail's Mikaela Shiffrin fought through brutal, windy conditions in Andora today to finish 10th in a World Cup slalom won by Austria's Marlies Schild.
"Oh my gosh, it was so windy," Shiffrin said. "I trained a little bit [Friday] after the giant slalom was canceled and it was really windy yesterday too, so I was expecting it, but I wasn't expecting how hard it was blowing. It hit me like a ton of bricks."
The wind and blowing snow severely limited visibility for the racers, especially during Shiffrin's first run.
"The wind was mostly uphill, especially on the first run," she said. "I was heading towards the break-over on the first run and I couldn't see where I was going. I couldn't see the ground, I couldn't see my hands and I was like 'I hope I'm going around the right gate right now.'"
Vail's Lindsey Vonn, plagued by poor visibility, couldn't finish on the tricky track, but didn't give up too many points in the overall World Cup chase as her nearest rival, Slovenia's Tina Maze, wound up 11th.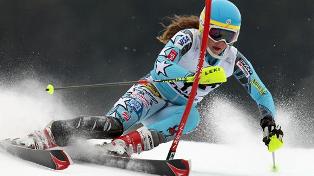 Ski and Snowboard Club Vail's Shiffrin jumped from 20th after the first run to wind up 10th overall, turning in the fourth fastest second run. Schild won her sixth slalom of the season.

Vonn still holds a commanding 458 point lead over Maze in the quest for her fourth overall title.

"It was a surprise not to finish, because the hill is perfect, so I am disappointed not to have had a good result," Vonn said. "There are a lot of children out, everyone is excited to have the race here. It was fun to ski and the crowd was great."

A giant slalom, originally scheduled for today, is scheduled for Sunday, with the unpredictable wind still in the forecast.

"[Sunday] is important for the giant slalom standings," Vonn said. "I'm third right now, so I hope I can make up some points."

Shiffrin has been working hard on her GS as well.

"I'm really excited to test another giant slalom tomorrow because I've really been working hard on my giant slalom and hopefully I'll be able to make a second run," Shiffrin said. "I've been struggling with my giant slalom, but hopefully I can ski in the race like I have been in training."

She added that she learned a great deal watching a clutch slalom skier like Schild.

Great slalom skiers like Schild, Shiffrin said, "They're so solid and they know it. They're not afraid to go balls-to-the-wall. I can imagine Schild was thinking that she had to win and that was her only option. She was probably thinking, 'I'm going to win this thing and that's just the way it's going to go.'"
---

24 Comments on "Eagle-Vail's Shiffrin 10th in World Cup slalom as Vonn fails to finish"