EPA hits Union Pacific with fines for oil, coal spills in Colorado, Utah, Wyoming
Union Pacific Railroad Company will pay $1.5 million for six alleged oil spills in Colorado, Utah and Wyoming and for three alleged coal spills in Colorado, the U.S. Environmental Protection Agency announced this week. Some of the spills occurred in Colorado's high country.
The civil penalty is part of a settlement Union Pacific reached with the EPA for allegedly violating the Clean Water Act and the Oil Pollution Act. In 2003 and 2004, the EPA claims the company spilled oil and coal along railroad lines in all three states and committed other violations at 20 of its rail yards.
"Today we have secured a settlement that will help prevent spills, protect water quality, and improve the safety of Union Pacific's operations in 20 communities across Colorado, Utah, and Wyoming," said Jim Martin, EPA regional administrator. "Union Pacific has already begun putting necessary measures in place and we will ensure they continue to do so."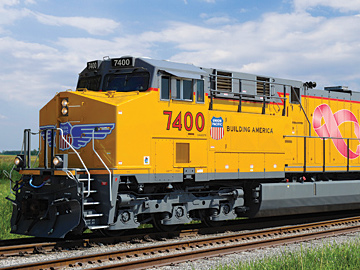 Union Pacific will deposit $1.4 million into the Oil Spill Liability Trust Fund, which is used by federal agencies to respond to oil spills. The remaining $100,000 will be paid to the U.S. Treasury for the coal spills and stormwater violations.
The settlement also requires Union Pacific to develop a management and reporting system to ensure compliance with the EPA's Spill Prevention, Control, and Countermeasure rules, Facility Response Plan regulations, and storm water requirements in all three states.
"Union Pacific must take further actions to control stormwater runoff at the Burnham Rail Yard in Denver, which are anticipated to prevent the discharge of approximately 2,500 pounds of chemical oxygen demand, 50 pounds of nitrate, 11,000 pounds of total suspended solids, and 30 pounds of zinc annually to waters in the Denver area," an EPA press release said. "This settlement will benefit many communities in Colorado, Utah, and Wyoming, many of which are disadvantaged, by requiring Union Pacific to install secondary containment to safely store oil and prevent oil spills from leaving its properties."
Union Pacific will also be required to designate an environmental vice president responsible for complying with oil spill prevention and stormwater control requirements at its 20 rail yards.
The Colorado rail yards in question are located at Burnham, 36th Street in Denver, Denver North, East Portal Moffatt Tunnel, Grand Junction, Kremmling, Pueblo and Rifle.
"Union Pacific is working to ensure our response plans are up-to-date across our entire network and that our derailment response is as swift as possible while at the same time conforming to all applicable environmental laws," Union Pacific spokesman Mark Davis said. "We are committed to protecting the environment now and for future generations. Our employees, customers, shareholders and the communities we serve can expect our full compliance with all laws and regulations."

---

65 Comments on "EPA hits Union Pacific with fines for oil, coal spills in Colorado, Utah, Wyoming"