Santorum scoffs at climate science 'hoax' as Gingrich backpedals on Pelosi ads
GOP presidential candidates address energy summit in Golden
GOLDEN — A day before Colorado Republicans voice presidential preferences at the caucuses, Rick Santorum dismissed climate change as "a hoax" and advocated an energy plan heavy on fossil fuels.
"We were put on this Earth as creatures of God to have dominion over the Earth, to use it wisely and steward it wisely, but for our benefit not for the Earth's benefit," Santorum told an audience at the Colorado School of Mines where he was a guest speaker Monday at the Colorado Energy Summit.
"We are the intelligent beings that know how to manage things and through that course of science and discovery if we can be better stewards of this environment, then we should not let the vagaries of nature destroy what we have helped create," Santorum said to applause from the conservative crowd.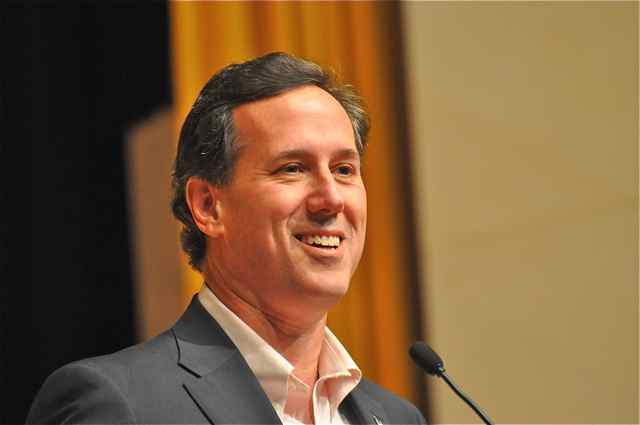 The former U.S. senator from Pennsylvania argued that science has been hijacked by politicians on the left, and that climate change is "an absolute travesty of scientific research that was motivated by those who, in my opinion, saw this as an opportunity to create a panic and a crisis for government to be able to step in and even more greatly control your life," Santorum said.
"I for one never bought the hoax. I for one understand just from science that there are one hundred factors that influence the climate. To suggest that one minor factor of which man's contribution is a minor factor in the minor factor is the determining ingredient in the sauce that affects the entire global warming and cooling is just absurd on its face. Yet we have politicians running into the ramparts — unfortunately politicians who happen to be running for the Republican nomination for president — who bought into man-made global warming and bought into cap and trade," he said, before criticizing presidential rivals Newt Gingrich and Mitt Romney by name for their previous positions on cap and trade and climate change.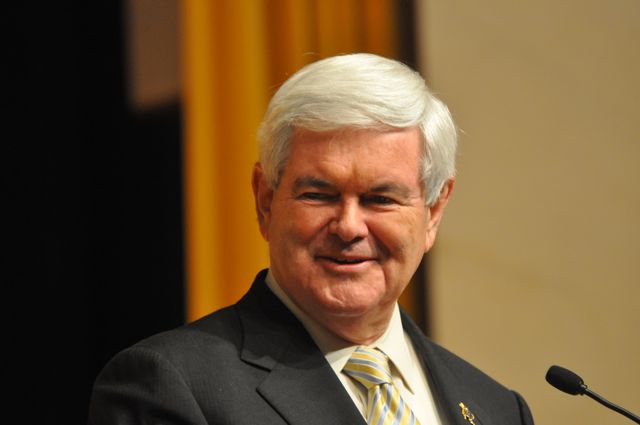 Gingrich, speaking before Santorum at the Colorado Energy Summit, said he regretted a television commercial he shot with Democrat Nancy Pelosi that addressed climate change. He called it "the dumbest single thing I've done in five or six years. ... It was stupid." Part of his Pelosi hangover has to do with his diminishing confidence in climate science. Asked by a man in the audience whether he believes
human activities can cause climate change
, Gingrich pleaded ignorance.
"I believe we don't know. I am an amateur paleontologist," Gingrich rambled. "The planet has changed its temperature a number of times. ... If you look at the Antarctic today, you'll figure it [must've been] a lot warmer when the dinosaurs were there. So what I've said in the past is I'm happy to take prudent measures that aren't very expensive. So if we can find relatively inexpensive, safe nuclear power, I'm for it. The fact that Iowa produces 20 percent of its electricity from wind is fine. There's a lot of things you can do with the margin. What I would not do is I would not turn the power over to bureaucracy to run the entire country. I have always opposed cap and trade ..."
While Gingrich and Santorum don't agree on whether the 58th Speaker of the House ever favored cap-and-trade legislation, they do share a common disdain for the Environmental Protection Agency. If he is elected president, Gingrich said he would abolish the EPA and replace it with something he calls the Environmental Solutions Agency. He also said he would fundamentally overhaul the Department of Interior and on his first day in office, he would sign an executive order approving the controversial
Keystone XL pipeline
.
Oil and gas, he said, is "so central" to the nation's future energy portfolio.
"Environmentalists," Gingrich added, "have been infiltrated over the last 40 years by people on the left who are against business and against local control and they use the environment as an excuse."
Santorum, meanwhile, claimed "there is a war on fossil fuels in this country by [the Obama] administration." Like Gingrich, the native Pennsylvanian vowed to open up more public lands to oil and gas drilling. Don't worry, he promised, Yellowstone would be left alone. But there is a lot of Bureau of Land Management and other federal land that Santorum said would be better served by the oil and gas industry, ranching or other human uses. He cringed every time he mentioned the Endangered Species Act and blamed it for hurting business. Santorum told the story of how the Endangered Species Act is preventing the harvesting of a forest with profitable wood in his home state.
"We have the Endangered Species Act, which has prevented us from timbering all sorts of acreage there," he said. "It's bankrupted the school district and the like because of the government's inability to allow for us to care for our resources. A forest in my opinion is like a garden and you've got to care for it. If you don't care for it, you leave it to nature and nature will do what it does: boom and bust."
Stressing the importance for the country to provide cheap energy to its citizens, Santorum blamed the recession not on sub-prime mortgages or the derivatives market but on spiking fuel prices.
"We went into a recession in 2008. People forget why. They thought it was a housing bubble. The housing bubble was caused because of a dramatic spike in energy prices that caused the housing bubble to burst," Santorum told the audience. "People had to pay so much money to air condition and heat their homes or pay for gasoline that they couldn't pay their mortgage."
The nation's energy policy is a key political talking point this election season.
"This is the most anti-American energy administration we have ever had," Gingrich said. "[We] have the highest cost of gasoline in American history. And I think that if you're an editorial writer at the New York Times and you live in a high-rise in Manhattan and you ride the subway to work, it may not occur to you that for most Americans the high price of gasoline is a real problem."
Gingrich called
Obama's "all-of-the-above" energy plan
"very dangerous and very destructive." He claimed the need for the
Farm Dust Regulation Prevention Act
underscores the EPA's overreach.
GOP frontrunner Mitt Romney was also in Colorado on Monday, giving speeches in Grand Junction and Centennial. He is scheduled to speak in Loveland on Tuesday morning. Romney, also a proponent of the Keystone XL pipeline,
looks primed for a big win
in Colorado. He leads Republican voters in the state with 40 percent to 26 percent for Rick Santorum, 18 percent for Newt Gingrich, and 12 percent for Ron Paul, according to Public Policy Polling. Paul was in Colorado
last week
.
Check out this video shot at the Colorado School of Mines in Golden on Monday of Rick Santorum discussing his views on public lands, domestic energy and his problems with public education:
Here, Newt Gingrich discusses U.S. energy policy in Golden where he says, "If you want to measure what our goal is, it is to ensure that no American president ever again bows to a Saudi king ..."
Follow Troy Hooper on
Twitter
---

1 Comment on "Santorum scoffs at climate science 'hoax' as Gingrich backpedals on Pelosi ads"