Vonn notches World Cup win No. 50
Vail's Lindsey Vonn came from behind, survived a nearly disastrous crash, and joined a very elite club with the 50th victory of her storied World Cup career in a downhill race in Garmisch-Partenkirchen, Germany, today.
The win, Vonn's 25th in downhill, came after trailing at the first four race intervals and surviving a near crash on a bumpy side hill called the Ice Hang. It was Vonn's ninth win this season (including on home snow in Beaver Creek in December) and places her securely in the World Cup overall lead by nearly 500 points.
The Ski and Snowboard Club Vail racer's 50th win puts her behind only Austria's Annemarie Moser-Proell (62) and Switzerland's Vreni Scheider (55) on the all-time women's victory list.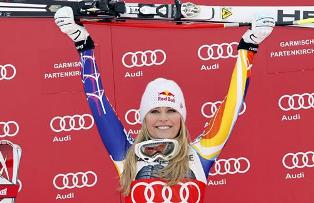 "It's crazy, I am at a loss for words," Vonn said after the thrilling race. "I already cried with one of the TV crews and that is enough crying for the day. Fifty World Cup wins is a huge mark for me in my career and more than I even thought possible."
Only three men have reached the 50-win plateau: Ingemar Stenmark (86), Hermann Maier (54) and Alberto Tomba (50). Among women, only Moser-Proell has won more downhill races than Vonn (36).
"I am just so happy; every win is special, but 50 is a huge mark," Vonn said. "I feel like today will be a day when I look back at my career and see what I have achieved. I have a lot more to do, I have a lot more years of skiing in me, but Alberto Tomba has 50 ski wins and he is one of the best skiers of all time, I don't see myself in that way, but to know that I have accomplished so much to this point is amazing."
Vonn is now only two wins away from her career best of 11 victories in one season, which is tied for second all-time. The Vail racer also stands just five more wins from tying the single season record of 14 set by Schneider.
"I have raced in a lot of places and always something good or bad happens no matter what you do," Vonn said. "Last year wasn't the best time here in Garmisch, but I turned everything around this year and it's awesome to get the 50th in Garmisch."
The win, earned in negative 13 Fahrenheit temperatures, almost ended in disaster for Vonn.
"That [the near crash] wasn't part of the plan," Vonn said. "I hit a bump and lost the inside edge of my ski and went onto my hip. From that point until the finish I skied well and was able to make up some time. It was a tough race."
A super G is scheduled for Sunday to close out the weekend in Garmisch.
---

4 Comments on "Vonn notches World Cup win No. 50"