Miller narrowly misses downhill victory in Chamonix
Olympic champion Bode Miller today missed his second win of the World Cup season by one-hundredth of a second in a downhill in Chamonix, France, finishing second to Austrian Klaus Kroell.
Switzerland's Didier Cuche saw his two-race winning streak snapped, but still managed to finish on the podium in third. And Canada's Erik Guay just missed his second straight podium, finishing tied for fourth with Austria's Romed Baumann. Guay was four hundredths of a second out of third and just.08 off Kroell's winning time.
Miller said the courses and the snow conditions have a lot to do with how close the speed races have been lately.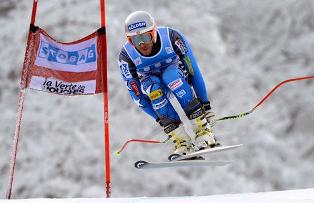 "Because everyone's so close together with the ability, and the courses seem to be easier -- they're slower -- there's less things that separate the field," Miller said. "A lot of these races are unbelievably close. That's a challenge in itself to really make sure that you stay focused and pay attention to the things that matter."
The two-time overall champion and five-time Olympic medalist wasn't sure where he lost his hundredth of a second.
"It's tough," Miller said. "There's so many places where a hundredth can come or go. I didn't really have a great reach for the finish line, which I always try to do well. That's the worst place to lose it, right out of the start or right at the finish line."
Today marked Miller's fourth podium so far this season. His only win came in the downhill on the Birds of Prey course in Beaver Creek in December.
For a short while, Canada stood one-two in the leader's box, with Jan Hudec posting an impressive run and winding up sixth overall.
"I watched Jan's run at the top and I thought for sure he would be the winner," Guay said. "So when I came down in first I was like, 'Wow. I'm pretty sure I just won this.' It was pretty cool when we were sitting there 1-2, but unfortunately, it seemed like the conditions changed quite a lot and people were putting down some extremely fast times."
Guay last weekend turned in his 16th career World Cup podium, finishing second in Garmisch-Partenkirchen, Germany.
Miller was chasing his American men's record 34th career World Cup win, which would have put him one behind Austria's Benjamin Raich in sixth place on the all-time career victory list.
He'll get another shot when the men compete in a second men's downhill in Chamonix on Saturday. Today's race was a replacement for December's cancelled race in Val Gardena, Italy.
---

3 Comments on "Miller narrowly misses downhill victory in Chamonix"