Vail's Kloser just misses moguls podium in Deer Valley World Cup
Kearney notches record 13th consecutive win
Vail's Heidi Kloser finished just off the podium in fourth Thursday as Olympic champion Hannah Kearney, of Norwich, Vt., rolled to her record 13th straight World Cup victory in moguls at the Visa Freestyle International at Deer Valley Resort in Utah.
For Kloser, the near-podium miss still represents her career-best World Cup result following a sixth-place finish earlier this season in Ruka, Finland.
"Fourth place today at the Deer Valley World Cup," Kloser
tweeted
. "Super happy with my finals run, but messed up a bit in the super final."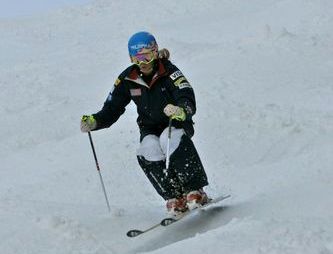 Heather McPhie, of Bozeman, Mont., finished second with an impressive jumps package that included a back cross on the top and a D spin on the bottom of the course.
Canadian Mikael Kingsbury took the top spot for the men for his sixth consecutive win on the FIS Freestyle World Cup tour. The top American was Patrick Deneen, of Cle Elum, Wash., who also finished just off the podium in fourth.
Overall, the U.S. Freestyle Ski Team had six women and four men in the finals, with three women making it into the four-skier super finals.
"It was absolutely amazing having three out of four ladies in the super finals," Freestyle Program Director Todd Schirman said. "It's really been the first time we've been set up to have a sweep. It's amazing to see all of our women stepping up on degree of difficulty and pushing the sport and having the results to show."
Schirman added that internal team competition will keep making the dominant Kearney improve her game.
"The tight competition is a very good thing," Schirman added. "It put a lot of pressure on Kearney and got her nerves rolling and that's important for us to make her better and have those nerves. For Heather McPhie to be that person pushing Hannah is amazing and I'm really proud of them."
Kearney said she likes a little tension.
"The pressure was on," she said. "I enjoyed it. It was nerves that I haven't felt in a while, but in an absolutely positive way and I'm glad I was able to take the nerves and perform well and not take them and buckle under the pressure."
---

26 Comments on "Vail's Kloser just misses moguls podium in Deer Valley World Cup"