Eagle-Vail's Del Bosco claims second ski cross gold at Winter X Games
Eagle-Vail's Chris Del Bosco won his second Skier X title in three years today and Canadian teammate Dave Duncan took bronze as Canada's ski cross team put on another show of strength at the Winter X Games in Aspen.
Del Bosco, born and raised in the Vail Valley but an Alpine Canada team member because of his dual citizenship, won gold at the X Games in 2010 and silver last year. Today he was a dominant force from the quarter-finals on, as he used his full arsenal of slick passing moves and great technique to pick off his rivals on the super-sized course and claim another Skier X title.
"Oh man, I feel great," said Del Bosco, of Montreal, Quebec. "It's been kind of an up and down season and I was hoping to come here and have a big day. I'm feeling good about my skiing and it all came together. To come here and win gold with Duncan on the podium, it's a great day."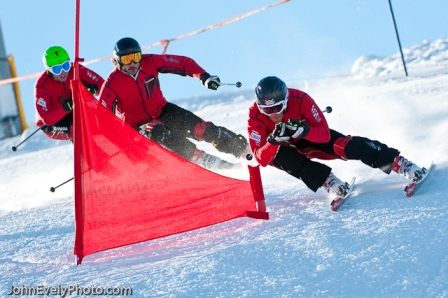 In the men's final, Finland's Jouni Pellinen got out to an early lead, but Del Bosco used the inside line on the first turn to move to the front of the pack. Del Bosco found himself in the bronze-medal position but set himself up for a big pass on the triple and made it count.
"This course is set up really well for me," Del Bosco said. "I knew the triple was one of the spots where I could make a move if I needed to make something happen. I kind of set it up a couple of turns before."
Del Bosco, the reigning ski cross world champion, won his quarter-final and semifinal races en route to the final. In Skier X, six racers compete head to head, with the top three advancing to the next round.
"[Del Bosco] was very smart today," said Eric Archer, head coach of the Canadian team and a Vail Valley resident. "His technique is really good. He didn't always have the fastest start but he made sure he was in a good position going into the first turn."
Within hours of the race finishing Del Bosco had already set his sights on repeating next year. No man has ever won gold in successive Skier X finals at the X Games, although Del Bosco came close last year when he followed up his win from 2010 with a silver medal.
"This is one of my favourite events. It's huge," Del Bosco said. "I've given myself the chance to break the curse next year."
Filip Flisar, of Slovenia, was second in the men's final and Duncan, of London, Ont. – who had to fight his way out of tough positions all day long – scrambled his way into third place.
"It was close all the way through," Duncan said. "The guys were all side-by-side. It was a definite battle out there."
Duncan won his quarter-final and finished third in his semifinal to squeeze into the medal round.
"Dunc battled hard today," said Archer. "It was a bit of a battle at times but he kept moving on."
Duncan, who won X Games silver in 2010, was happy to get on the podium again.
"We all want gold but I think you can be happy with any position on the podium here," Duncan said. "It's the biggest course of the year. It's the biggest event of the year."
The Canadian team – wearing helmet stickers bearing the initials 'SB' in honour of freestyle skier Sarah Burke – had all eight men's team members competing in the quarter-finals.
---

3 Comments on "Eagle-Vail's Del Bosco claims second ski cross gold at Winter X Games"