Vail's Vonn misses 50th World Cup win by .03 seconds
Second-place finish builds overall lead to 387 points
Vail's Lindsey Vonn missed her 50th career World Cup win by three-hundredths of a second today, finishing second to defending overall champion Maria Hoefl-Riesch in a super combined event in St. Moritz.
Germany's Hoefl-Riesch, who barely edged Vonn for the World Cup overall title last season, recorded her first win of the season with a total time of 2 minutes, 8.41 seconds. Vonn trailed her with with a time of 2:8.44, and Nicole Hosp, of Austria, was third with a time of 2:8.92.
Vonn still managed to build her overall lead this season to 387 points over her nearest pursuer, Tina Maze of Slovenia, who was fifth today. Hoefl-Riesch jumped up to third in the overall hunt but still trails Vonn by 554 points.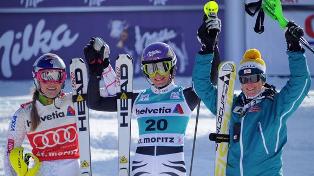 Vonn was going for a sweep in St. Moritz after having won a super combined on Friday and a downhill Saturday. Vonn leads the World Cup downhill, super-G, super combined and overall standings.
"It would have been nice to have a hat trick," Vonn said of her attempt to sweep in St. Moritz. She's good friends with her rival, Hoefl-Riesch. "I'm really happy for Maria — but I'd rather she beat me by a second. Maria has been sick, and it always takes a while when you have setbacks. It wasn't really a surprise for me that she has won."
Today's race was a makeup from a canceled December super combined in Val d'Isere, France.
The women's circuit now moves to Garmisch-Partenkirchen, Germany for a downhill and super-G. Vonn is hoping to get win number 50 on Hoefl-Riesch's home snow.
"I tried as hard as I could. I would have loved to celebrate my 50th World Cup win here in St Moritz," Vonn said. "But victory is not as easy as it seems. I had to ski five hard-fought runs in three days and it's exhausting. Hopefully, I will get that 50th win in Maria's home in Garmisch."
---

3 Comments on "Vail's Vonn misses 50th World Cup win by .03 seconds"