Vonn crushes St. Moritz downhill, closes in on history
Vail's Lindsey Vonn no longer seems to be racing against the rest of the field on the women's World Cup circuit. After yet another win today in a downhill in St. Moritz, Switzerland – the American record 49th of her career – it seems like Vonn is chasing down history.
Vonn crushed the field by 1.42 seconds for her first downhill victory at St. Moritz and the 24th of her remarkable career. The Ski and Snowboard Club Vail (SSCV) product now has eight wins this season (including a super-G victory at Beaver Creek) and two so far this weekend. She'll try to sweep the St. Moritz weekend and get her 50th career win in a super combined event on Sunday.
"I feel like 50 is a pretty substantial landmark in my career," Vonn said. "I'm trying to keep my focus on the race tomorrow. It's going to be a tough super combined because [Slovenia's] Tina Maze is extremely fast in super-G and also in slalom. I have to execute and hopefully if I can do that then number 50 will come. It means a lot to me, so I'm trying not to think about it."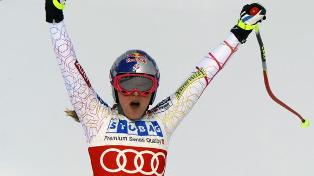 Sunday's super combined takes the combined time of one run of super-G and one run of slalom.
A little over halfway through the World Cup season, Vonn has won eight of the first 20 races held so far. If she wins seven of the last 18 races on the schedule, Vonn will surpass Vreni Schneider of Switzerland for the most wins in a single season (14) and also for sole possession of second on the all-time career victory list (55).
Schneider set the single-season women's record in 1988-89. The most Vonn has ever won in one season is 11 in 2009-10, which is tied with two others for the second most wins in a single season (including Austria's Annemarie Moser-Pröll).
Vonn would also inch closer to Moser-Pröll's all-time women's career victory record of 62, and Vonn would almost certainly win her fourth overall title, which would be an American record and would leave her two shy of Moser-Pröll's all-time record of six overall titles.
Today's win tied Vonn for second on the all-time downhill wins list with Austrian great Renate Goetschl with 24. However, Moser-Pröll won 36 World Cup downhills in her storied career.
"It feels pretty special to tie Renate [Goetschl] for downhill wins, but [Annemarie] Moser-Pröll still has a lot more than I do, so I have a long ways to go. She pretty much dominated, so I have my work cut out for me."
Of the 18 remaining races this season, seven are speed events (five downhills and three super-Gs) and nine are tech events (five giant slaloms and four slaloms). There are also two super combined races remaining, including Sunday's.
Vonn is more of a speed-event dominator but has been skiing well enough in tech events, including her first win ever in GS, to now lead the overall hunt by 352 points over Maze.
Americans Julia Mancuso, Squaw Valley, Calif., (fifth) and Leanne Smith, North Conway, N.H., (seventh) joined Vonn in the top 10.
"Leanne [Smith] is skiing extremely well and I'm really happy for her and for Julia [Mancuso] … everyone is skiing really well," Vonn said. "As a team, we're on a roll and it's fun to see all the girls so excited and skiing so well. Every day all of the girls on this team have a chance to be on the podium."
It was Smith's career best World Cup result.
"I'm at a good spot right now and I just want to keep learning and figuring out where I can be faster," Smith said. "It's not just understanidng this course, it's understanding how to be better on the turns and how to make up time by getting more out of the gates up ahead of you."
---

5 Comments on "Vonn crushes St. Moritz downhill, closes in on history"