Vail opening China, Sun Up Bowls Thursday, Blue Sky Basin on Friday
More snow forecast for Vail Valley Wednesday through Sunday
Parts of Vail's Back Bowls and Blue Sky Basin will open Thursday and Friday, according to the Vail Mountain page on Facebook.
"Facebook fans, you heard it here first, here is a Blue Sky and Back Bowls Update: Thursday: Chair 17 and 21 (Yonder side of 17, Poppyfields, Shangri La, Chop Stix on 21). Friday: Blue Sky Basin Chairs 37 and 39 (Big Rock Park and additional terrain under 39)," the site reads this morning.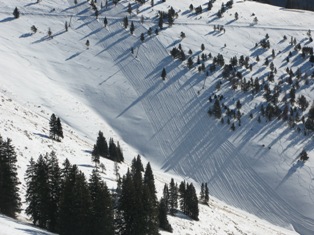 More snow is headed Vail's way today through Sunday, with the biggest powder days expected Saturday and Sunday. If
forecasts
pan out, that could mean a full opening of all the Back Bowls by the weekend.
Vail is also advising skiers and snowboarders that early season conditions exist and all rope closure should be obeyed or season passes can and will be revoked:
"Please obey ALL signs and closures and do not cut ropes: this is for your safety, variable conditions will exist, and we thank Ski Patrol for working hard to open new terrain when it is safe to do so. Keep an eye on the forecasts, more snow can mean new terrain. We'll keep you posted right here!" the
Facebook
page states.
Snow riders should take that warning seriously. On
Saturday
, Vail Ski Patrol opened part of Sun Sup Bowl and watched as numerous skiers and snowboarders cut rope to head straight into the ultra-thin Headwall area instead of starting out on Yonder and traversing over.
Patrollers up above were radioing down descriptions of rope cutters to patrollers near the Chair 17 terminal, who were then pulling passes for up to two weeks. Ski Patrol was trying to keep people from wrecking their skis and their bodies on extremely thin south-facing snowpack.
While western and eastern facing slopes should be fine the next few days, anything south-facing was just dirt and grass a little over a week ago, as Vail's Back Bowls remained closed this late in the season for the first time in 30 years.
Even after 10 inches of new snow on Monday boosted Vail to 105 inches so far this season, grass patches could still be seen sticking up through the snow on south-facing aspects of Headwall in Sun Up Bowl. The next round of snow this week should rectify that.
The north-facing terrain in Blue Sky Basin will no doubt be in great shape for Friday.
Here's the official Vail Resorts press release sent out hours after the Facebook announcement:
Vail Mountain, the largest ski resort in the United States, will open portions of Sun Up Bowl and China Bowl this Thursday, Jan. 19 and portions of Blue Sky Basin on Friday, Jan. 20.
With the addition of the Sun Up Lift (#17) and Orient Express Lift (#21) on Thursday, Jan. 19, skiers and snowboarders will have access to following lifts and more than 2,100 acres of skiable terrain in these areas on Vail Mountain:
Avanti Express Lift (#2)
Wildwood Express Lift (#3)
Mountaintop Express Lift (#4)
Riva Bahn Express Lift (#6)
Game Creek Express Lift (#7)
Born Free Express Lift (#8)
Highline Express Lift (#10)
Northwoods Express Lift (#11)
Gopher Hill Lift (#12)
Sourdough Express Lift (#14)
Little Eagle Lift (#15)
Vista Bahn Express Lift (#16)
Sun Up Lift (#17)
Eagle Bahn Gondola (#19)
Cascade Village Lift (#20)
Orient Express Lift (#21)
Beginning Friday, Jan. 20, skiers and snowboarders will also have access to Big Rock Park via the Skyline Express Lift (#37) as well as terrain in the Pete's Express Lift (#39) area of Blue Sky Basin, bringing the skiable terrain to more than 2,300 acres. Southern portions of Pete's Bowl and Earl's Bowl will not be open. The Tea Cup Express Lift (#36) will be open for transportation out of Blue Sky Basin.
"We're looking forward to more snow throughout the week, according to the weather forecast and hope to open up additional terrain as soon as possible," said Chris Jarnot, senior vice president and chief operating officer of Vail Mountain. "Until then, skiers and snowboarders need to observe the many closures in place in both the Back Bowls and Blue Sky Basin."
Skiers and riders must observe all slow zones, posted signs and closures. Closed trails may contain hazards due to early snow coverage. Crossing an on-mountain closure is a violation of the Colorado Ski Safety Act and will result in the loss of skiing privileges and could involve prosecution and a fine of up to $1,000.
The majority of front side lifts open at 8:30 a.m. and close at 3:30 p.m. Hours in the Back Bowls and Blue Sky Basin are shorter to accommodate opening and closing procedures. Lift operating hours are posted at the base of all open lifts.
For more information about Vail Mountain, visit
Vail.com
or contact the Mountain Information Center at (970) SKI-VAIL (754-8245).
---

174 Comments on "Vail opening China, Sun Up Bowls Thursday, Blue Sky Basin on Friday"