Vonn wins Cortina super-G to move into third on all-time victory list
Vail's Lindsey Vonn dominated a World Cup super-G in Cortina, Italy, today to vault into third place on the all-time women's World Cup victory list.
The Ski and Snowboard Club Vail racer had been tied for third all-time with retired Austrian great Renate Goetschl with 46 career wins, but today's win was the 47th of Vonn's storied career.
Today's win was Vonn's fourth consecutive super-G victory in Cortina and sixth win overall at the Italian resort. It was also the sixth victory for Vonn this season, including a super-G win on the men's Birds of Prey course at Beaver Creek last month.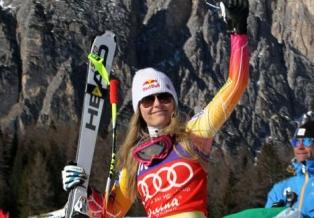 "Cortina is a very special place for me," Vonn said. "It's where I got my first World Cup podium and I've always had success here, so I was really trying hard today and risking a lot. My run was a good combination of risk and aggression, but I still stayed in control. The high speed made it more challenging than normal. I was on the limit the entire race."
Vonn expanded her lead to 291 points in her quest for an American record fourth overall World Cup title. Today's second-place finisher in the super-G, Slovenia's Tina Maze, is also second in the overall hunt.
Vonn is currently tied with American men's great Phil Mahre with three overall titles to her credit. On the women's career victory list, Vonn now trails only Austria's Annemarie Moser-Proell (62) and Switzerland's Vreni Schneider (55).
"The records in skiing are really important to me," Vonn said. "It's the history of our sport and it's something you can look back on and be proud of what you've done with your career.
"I never thought that I'd be able to reach as many victories as I have now. Renate [Goetschl] has always been such a roll model. I can't believe I'm at a point where I can stand alongside her in history."
Julia Mancuso, Squaw Valley, Calif., was fifth in today's super-G and Leanne Smith, North Conway, N.H., was 10th as the U.S. Ski Team captured the Cortina Trophy, recognizing the most successful nation over the two-day race series.
"I'm really proud and happy to be a part of this team," Vonn said. "We had an incredible weekend. Stacey [Cook], Julia [Mancuso], Leanne [Smith] and Laurenne [Ross] are skiing so well right now. For the entire U.S. Ski Team, Cortina was very successful."
Vonn bounced back from a stomach ailment that hindered her in Bad Kleinkirchheim, Austria, last weekend to finish second in Saturday's downhill and first in the super-G today.
"It was tough to get the confidence back after my races in Bad Kleinkirchheim last weekend," Vonn said, "but now with a first and a second here in Cortina, everything is going the right way and I couldn't be happier."
Women's head coach Alex Hoedlmoser said it was good to wash away the bad taste of Bad Kleinkirchheim.
"We've put in a lot of hard work," Hoedlmoser said. "Not just the athletes, but the coaching staff as well. We were a little bit disapointed in the super-G in Bad Kleinkirchheim because we didn't really perform up to our expectations. It wasn't a really bad result, but we get pretty used to winning and being on the podium.
"We definitely wanted to make a statement today and the whole team actually stepped it up. It was really cool to see."
The women's World Cup now moves to Kranjska Gora, Slovenia, for a giant slalom and a slalom.
---

4 Comments on "Vonn wins Cortina super-G to move into third on all-time victory list"