Vonn 2nd in Cortina downhill, builds overall lead
Vail's Lindsey Vonn fought through gusty winds to finish second today in the Olympia della Tofane downhill in Cortina, Italy, expanding her overall World Cup lead to 244 points. Italian Deniella Marighetti captured the first victory of her career.
It was really windy and we had to ski well and also have a little bit of luck, and it could have gone either way," Vonn said. "It could have been a lot worse, so second place is a solid result."
Today's podium (top 3) was the ninth such finish for Vonn in Cortina and her sixth podium so far this season. It represented a solid bounce-back for the Ski and Snowboard Club Vail product after battling a stomach bug last week. But it was far from easy given the conditions.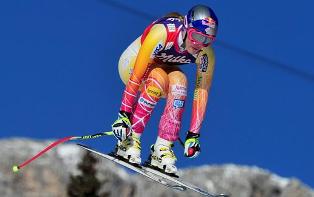 "The problem at the start was that the wind was swirling and I couldn't even see the first gate, so I was kind of laughing to myself," Vonn said. "There's not much you can do when it's so windy, so you just have to try to ski your best. I thought I skied well. Unfortunately, it wasn't quite enough for the win today. Second place is a really solid result given the conditions."
Vonn is aiming for her fourth overall World Cup title, which would be an American record.
"It's always tough, whether you're leading overall or you're trailing and you're trying to catch up," she said. "For some reason, the overall is always on my mind. For me, the main focus is just to ski my best every day and try not to think about the points. It's really hard not to think about the points, but the main thing is just to try to ski my best."
Stacey Cook, of Mammoth, Calif., was sixth, and Julia Mancuso, of Squaw Valley, Calif., was ninth. Cook's sixth-place finish ties for her third-best career World Cup result.
"[The wind] was definitely a factor, and I'm not really sure what side of it I was on," Cook said. "I know that I definitely had some wind over the first jump, and I wasn't sure how I was going to pull out of it. If it was any bigger, I think it would have taken me.
"But I made it through that, and I just tried to think of tucking and skiing well. That was the only thing I thought about the whole time, and I think it worked. I felt a little out of control at the bottom, which usually means you're going fast."
On the men's tour, 2010 Olympic downhill bronze medalist Bode Miller, of Franconia, N.H., took fifth place in the 82nd Lauberhorn downhill in Wengen, Switzerland, today, earning his fourth straight World Cup top-10 finish in the discipline. Switzerland's Beat Feuz won on his home turf, snatching victory from Austria's Hannes Reichelt.
---

1 Comment on "Vonn 2nd in Cortina downhill, builds overall lead"