Miller 3rd, Ligety 6th in Wengen super combined
Olympic super-combined champion Bode Miller today opened the 82nd Lauberhorn weekend in Wengen, Switzerland, with a third-place finish in the discipline that brought him a gold medal at the Vancouver Winter Olympics in 2010.
Miller, second in the downhill portion, held on to the podium as Croatian Ivica Kostelic earned his third win of the season. Park City, Utah's Ted Ligety moved up from 19th in the downhill to finish sixth after the slalom and jump up to third in the overall World Cup standings. Miller, of Franconia, N.H., is now sixth overall.
Miller won the downhill last month at the Birds of Prey World Cup in Beaver Creek, and Ligety won a giant slalom in Beaver Creek. It was Miller's seventh career podium (top 3) in super combined, ninth podium in Wengen, and the 74th podium of his 15-year career.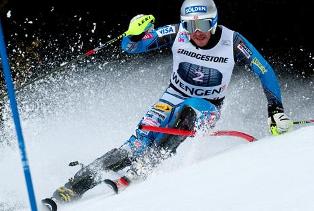 But the five-time Olympic medalist was far from pleased with his performance.
"I made a huge mistake in the slalom and I allowed myself to get a little bit frustrated," Miller said. "The whole day was extremely frustrating. Slalom was miserable. It's not been going well.
"I had two or three runs that went well in training, but from the moment I came out of the starting gate I knew it was not going to be a good day."
Ligety was also somewhat disappointed with his showing.
"It would have been easy to be seven-tenths faster," Ligety said. "It's about as easy a course as we have seen in a long time. A top-10 finish is fine, but it's not really what I was hoping for."
Ligety said he should have pushed harder.
"The course setting was pretty easy, and the snow was surprisingly good," he said. "I skied well at the top but was way too conservative down the pitch. I wasn't confident enough to go for it."
The race opened the 82nd Lauberhorn World Cup weekend in the famed Swiss alpine village. The downhill, the longest on tour, is scheduled for Saturday.
---

2 Comments on "Miller 3rd, Ligety 6th in Wengen super combined"