Experts: Don't blame sup-par ski season on global warming, but watch out for drought, wildfires
Just a year after record snowfall throughout much of the Rocky Mountain West, the region is locked in a snow drought not seen since Jimmy Carter surrendered the White House to Ronald Reagan in the early 1980s.
"We have had some very unusual weather so far this season," Vail Resorts CEO Rob Katz said Friday, going on to explain that Vail's Back Bowls remain closed this late in the season for the first time in 30 years.
Vail saw
eight inches of new snow on Saturday
, but it still wasn't enough to open the vast majority of the mountain. Ski industry woes aside, state water watchers and firefighters are nervously
eyeing the miniscule mountain snowpack
, which supplies so much of the water used by Front Range cities. As of Dec. 30, snowpack in the Colorado River basin was 44 percent of last year's record level and just 63 percent of the annual average.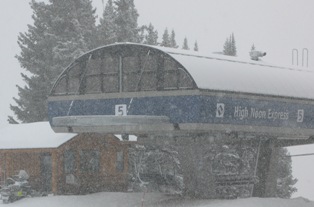 "[The drought] will make the beetle epidemic even more severe," said state Sen. Gail Schwartz, a Snowmass Democrat who's introducing a bill in the legislative session starting Wednesday that's aimed at reducing the fire danger from a mountain pine bark beetle epidemic that has killed millions of acres of Colorado lodgepole pines. "What doesn't burn down will blow down."
But just as it lacked scientific validity to point to Vail's record 525 inches of snowfall last season as proof that climate change is a hoax (which many conservatives gleefully did), ski industry experts say it's wrong to totally blame the current drought (just 88 inches so far at Vail) on human-caused heating of the planet.
"You can't take weather, which is what we're experiencing, and make deductions about climate, which is the long-term trend," said Auden Schendler, vice president of sustainability at Aspen Skiing Company, which is suffering through an equally dry season. "But you don't need to, really. All you need to do is look up the GISS (Goddard Institute for Space Studies)
NASA global temperature anomaly maps
of the world and look at December. It's insane, and each decade gets hotter."
Still, it's turned into the kind of summer-like ski season in the Rocky Mountain West that the new Mitt Romney – the front-running GOP presidential nominee Romney – should love. Not the 2002 version who turned a profit with the Salt Lake City Winter Olympics and
as recently as June said
, "I think it's important for us to reduce our emissions of pollutants and greenhouse gases that may well be significant contributors to the climate change and the global warming that you're seeing."
Rather,
the sizzling December in the Rockies
must have warmed the heart of the new pandering-to-conservatives Romney – the one who's going for a gold medal in flip-flopping by saying just a few months later in October, "My view is that we don't know what's causing climate change on this planet. And the idea of spending trillions and trillions of dollars to try to reduce CO2 emissions is not the right course for us."
But as far as the current conditions, Aspen's Schendler again emphasizes climate change should not be blamed for the current drought but instead is behind longer term trends like a generally drier American West – one that is more susceptible to water shortages and wildfire.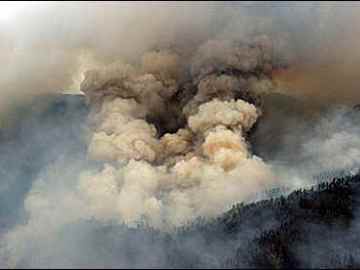 "It's key to remember that warming might actually bring bigger storms to the Rockies due to there being more moisture in the air," Schendler said. "At the same time, because the atmosphere can hold more water, it can suck the land dry of more water than before."
Schendler says the biggest impact of climate change for the ski industry may be significantly shorter ski seasons.
"The thing to look at -- and we're seeing this trend -- is when runoff happens," he said. "When spring comes, both are happening much earlier, because Colorado has warmed, and warmed disproportionately to the rest of the U.S."
The last time Colorado's high country was even close to this dry in mid-winter was during the 2001-02 ski season, which was followed by the worst wildfire season in the state's history. June of 2002 saw the
massive Hayman Fire
scorch nearly 138,000 acres of land in the mountains southwest of Denver, darkening Front Range skies and loading key water storage facilities with debris from subsequent erosion.
NASA's James Hansen, one of the world's leading climatologists,
recently issued a report
tying last summer's
massive wildfires in Texas
and the 2010 wildfires in Russia to global warming.
"Hansen argues that climate 'loads the dice,'" Schendler said. "So in an average year you might have a one in six chance of extraordinarily hot weather or a super-violent storm. But in the climate-changed world in which we live, the odds change to something new -- perhaps two in six."
---

26 Comments on "Experts: Don't blame sup-par ski season on global warming, but watch out for drought, wildfires"