Hurting badly for snow, Vail finally sees some white stuff this weekend
Some strange white substance sifted out of the sky this morning in Vail – apparently something called snow.
So far it hasn't been enough to register on the morning snow report, but as of 7 a.m. about a half inch had fallen in West Vail. After a prolonged period of warm, dry weather, even that much snow qualifies as breaking news.
Forecasters are calling for another 1-2 inches today and another 2-4 inches tonight in the Vail Valley.
However, once again, the heavier totals will be east of the Continental Divide as the storm track heads more to the south and west. Still, Vail Valley snow riders will take what they can get.

Another storm, according to opensnow.com, is headed our way for Wednesday night of next week. But don't wait for that one, advises opensnow's Joel Gratz:
"Enjoy the snow this weekend!" he wrote on Friday. "It's not a massive storm, but conditions Saturday at close and Sunday at open could be the best they've been in weeks."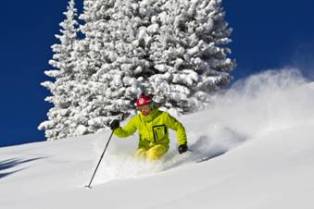 Of course, that's not saying much, because ever since about mid to late November, Mother Nature has turned off the snow spigot in an historic way across much of the American West.
Conditions were actually ahead of schedule at that point, allowing Vail to open more terrain than usual and Beaver Creek to host extra World Cup ski races in early December that were cancelled in Europe due to a lack of snow.
Since then, the snow has returned to parts of Europe, but December was a record dry month for many of the Vail Resorts' ski mountains in Colorado and California.
"We have had some very unusual weather so far this season," Vail Resorts CEO Rob Katz said Friday. "For the first time in 30 years, a lack of snow has not allowed us to open the back bowls in Vail as of January 6, 2012, and, for the first time since the late 1800s, it did not snow at all in Tahoe in December."
Katz said there was enough snow early to allow for a decent holiday season at most of the company's Colorado resorts.
But now all eyes are on the sky heading into 2012. Vail so far has had only 80 inches of snow. It averages 350 a season, and last season saw the all-time record of 525 inches.
Southern resorts in Colorado – such as Wolf Creek, Telluride and Durango – have fared a little better than the ski areas in the northern and central mountains. But even those resorts have been hurting for new snow as of late.
Storms earlier in the season were splitting to the north and the south, meaning Jackson and Grand Targhee, Wyo., have been doing OK. So have Big Sky and Bridger, Mont. But even locals there report conditions are less than epic by their standards.
Still, they're better than Colorado, so Big Sky made headlines this week by offering free skiing in January to anyone holding a Vail Resorts' Epic Pass.
Grand Targhee sent out a release on Friday offering free skiing to anyone holding a season pass at any U.S. or Canadian ski resort for this 2012 season. The offer is good for anyone who books three nights or more of lodging through Grand Targhee's website or central reservations.
"We respect how precious skiing and riding is to the die-hard winter enthusiasts who commit to season pass purchases," said Ken Rider, director of marketing and sales for Grand Targhee Resort, which has enjoyed nearly twice as much snow as Vail so far this season "Weather is fickle and we realize that every resort is but one big dump away from the record conditions we all enjoyed last season.
"For now, we have gotten loads of snow and we want to reach out and use this early season to introduce skiers who love powder to the 2,602 acres available at the 'Ghee."
Colorado Ski Country USA, the trade association for all of the non-Vail Resorts ski areas in the state, reports workers at its member resorts are performing snow dances and other rituals to try to change the state's snow mojo for the rest of the season.
---

221 Comments on "Hurting badly for snow, Vail finally sees some white stuff this weekend"