Colorado congresswoman hammers GOP for derailing payroll tax-cut deal before holiday break
DeGette says American middle class will pay dearly for political games
Republican Colorado congressional members joined their House colleagues Wednesday in blaming the Senate for failing to pass a long-term extension of unemployment benefits and a payroll tax break, but senior Denver Democrat Diana DeGette scoffed at that notion on Tuesday.
"Today I join the American people in their extraordinary frustration over the leadership of the House yet again creating a politically motivated crisis and placing the financial security of millions of American families in jeopardy," DeGette said in a statement.
The U.S. Senate on Saturday overwhelmingly (89-10) passed a two-month extension that the House rejected 229-193 on Tuesday, with House Speaker John Boehner and the conservative Republican caucus insisting on a one-year extension. House and
Senate Democrats are refusing to play ball
.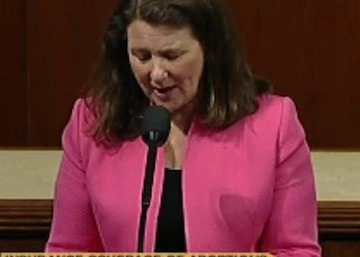 "The Senate was in such a rush to get out of town and start their vacations that they didn't complete their work and slapped together another stopgap, short-term measure that will do nothing to create the certainty that this economy needs to expand and to create jobs," Colorado Republican Rep. Mike Coffman said in a release.
"Congress can't even agree on a tax cut they all agree with," said Joe Miklosi, a Democrat running for Coffman's 6th Congressional District seat. "Senate Republicans and Democrats managed to negotiate a reasonable compromise and it's unacceptable that House Republicans continue the relentless partisan bickering. The consequences of a failure to act will have major economic repercussions."
The only silver lining for some Democrats and members of Colorado's conservation community is that a provision compelling President Obama to fast track a decision on the controversial Keystone XL oil pipeline is also caught up in the congressional stalemate. Coffman Wednesday morning was blasted by environmental groups for supporting the provision.
Colorado activists wearing Santa hats delivered coal and sang coal carols at Coffman's Lone Tree office. They accused Coffman of pandering to energy interests, which they say have contributed more than $145,000 to his re-election campaign.
"The House brings shame on itself when its members take tens of millions in big oil money and then do the industry's bidding," 350.org founder Bill McKibben said in a release. "Keystone XL creates no net jobs and pours carbon into the atmosphere. That's why millions across the country opposed it. Its only beneficiaries are the fossil fuel industry and the politicians they support."
The Keystone XL provision was seen as sweetener in the deal to get House Republicans to vote for the payroll tax break, but apparently it wasn't enough to overcome reservations about the length of the deal. But DeGette said that the Senate deal is the best that can be hoped for in the current political climate.
"While a two-month extension is far from ideal, given the intransigence that has marked this year in Congress, and the difficult negotiations that have already taken place on this bill, it is clear more time is needed to develop an effective year-long solution," DeGette said.
"This short-term extension would allow time for more negotiation without forcing American families to endure a tax hike or the devastating consequences of losing their unemployment benefits."
Colorado Republican Rep. Doug Lamborn also tried to blame the Senate: "I urge my Democrat colleagues in the Senate to return to Washington and work with the House on a bill to give a full year tax break to American families. The House stands ready to get the job done and work through the holidays, just as many other Americans are doing. We are committed to giving middle class families a tax cut for a full year as the President has requested."
But even some Senate Republicans are calling out their counterparts in the House.
"It is harming the Republican Party. It is harming the view, if it's possible anymore, of the American people about Congress," Arizona Sen. John McCain told CNN. "And we've got to get this thing resolved and with the realization that the payroll tax cut must remain in effect."
House Republican leaders want Senate Democrats to return to Washington and appoint conferees to negotiate a deal with the House.
"We believe there is common ground on this issue and we can provide some certainty in a full year's worth of tax relief for the working taxpayers of this country," House Republican Leader Eric Cantor said in a release. "Now it's up to [Senate Majority Leader] Harry Reid, because the bill is back in the Senate."
DeGette urged Reid to do the same thing:
"I had no choice but to vote against the politically motivated motion to go to conference," she said in a statement. "However, given the dire consequences for the American people, I must now strongly urge … Reid to appoint conferees and work toward a common-sense solution for our nation before Jan. 1. I stand ready to vote at any time to help the millions of Americans who rely upon these critical funds."

---

32 Comments on "Colorado congresswoman hammers GOP for derailing payroll tax-cut deal before holiday break"