USA Pro Cycling Challenge drops Vail time trial, adds Beaver Creek as host city
Mayor Daly deeply disappointed by loss of Vail Pass stage
Vail Mayor Andy Daly tonight expressed "tremendous disappointment" that his town has been dropped as a host city for next year's USA Pro Cycling Challenge.
This year's Stage 3 time trial through Vail Village and up Vail Pass, the only original Coors Classic stage included in the race, was decisive in the ultimate outcome. Overall winner Levi Leipheimer power his way up the pass, building a lead that held up all the way to Denver.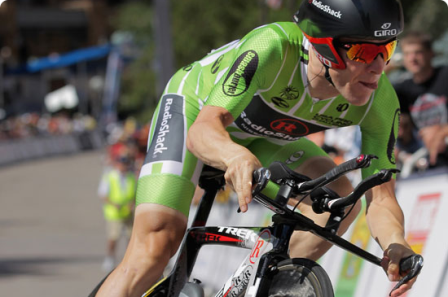 "Obviously, it's a tremendous disappointment to all of us in Vail given the tremendous effort we made to put together a world-class time trial that was viewed by probably 35,000 people," Daly said. "It's a real letdown."
Pro Cycling Challenge officials released the official 2012 route and its 12 host cities this afternoon after the
Denver Post
broke the story citing anonymous sources.
The Aug. 20-26 stage race will still include the Vail Valley on Thursday, Aug. 23. The 102-mile Stage 4 will start in Aspen, head up over Independence Pass and down into Leadville. Then it will climb up over Tennessee Pass and Battle Mountain Pass and head down into Minturn. The grueling stage will finally wind through Avon and climb up to the finish in Beaver Creek Village.
But there will be no Vail time trial next year. The individual time trial has instead been scheduled for the final Stage 7 on Sunday, Aug. 27, in Denver. Daly thought Vail's history of hosting international cycling events, its support of the inaugural event and the
drama of the Vail Pass time trial
this year would combine to bring the wildly popular event back next year.
"I thought that Vail was a natural and that it would be selected again, so that made the disappointment even greater," Daly said. "That was really our expectation, and the other was that the number of people viewing the race that day was really extraordinary, and we thought that would again be a real selling point."
The town of Vail this year reportedly contributed $175,000 in cash and about $57,000 in in-kind contributions to the USA Pro Cycling Challenge.
"The Beaver Creek finish will be fantastic, and as a community, we're thrilled to be selected," said Ceil Folz, president of the Vail Valley Foundation, which will head up the local organizing committee. "We are, of course, sad to see the Vail time trial go away, but excited the Vail Valley will be able host professional cycling here for a second year in a row."
Stage 4 this year started in Avon – which also has been dropped as a host city, but will be passed through -- and finished in Steamboat Springs, which will no longer be a finishing host city in 2012. Here's the 2012 route officially
released today
by the USA Pro Cycling Challenge, which drew more 1 million spectators in its first year:
• Monday, Aug. 20, Stage 1, Durango – Telluride
• Tuesday, Aug. 21, Stage 2, Montrose – Crested Butte/Mt. Crested Butte
• Wednesday, Aug. 22, Stage 3, Gunnison – Aspen
• Thursday, Aug. 23, Stage 4, Aspen – Beaver Creek/Vail Valley
• Friday, Aug. 24, Stage 5, Breckenridge – Colorado Springs
• Saturday, Aug. 25, Stage 6, Golden – Boulder
• Sunday, Aug. 26, Stage 7/ITT Denver
"The host cities selected for the 2012 USA Pro Cycling Challenge will enable us to showcase the beauty and hospitality of Colorado to a worldwide audience," USA Pro Challenge CEO Shawn Hunter said in a release. "These cities are valued partners who will work with us, hand in hand, as we continue to raise the bar for professional cycling here in America."
Unlike its ski-town rival Vail, Aspen actually picked up a stage by being the finishing city for the iconic Stage 3 repeat between Gunnison and Aspen over Independence Pass and the starting city for Stage 4 to Beaver Creek.
As
Real Vail sister site Real Aspen points out
, "Aspen has strong ties to the event. Part-time resident and cycling legend Lance Armstrong concocted the idea for a statewide race while pedaling through the mountains above his home here one day. Armstrong called up then-Gov. Bill Ritter and soon the two were scheming over lunch in Aspen. Ever since, Aspen Mayor Mick Ireland — a passionate bicycling enthusiast and questionable speller — has eagerly rallied the city around the event."
Real Aspen then quoted Ireland from his Facebook page: "We are Aspen! the [sic] ONLY host city with a finish (Coming in over The Pass) and a start (Leaving over The Pass the enxt day. [sic] We are the Queen Stage."
Leipheimer offered this in the release: "What makes Colorado uniquely challenging is the Rocky Mountains. Knowing that in 2012 we will start in one corner of the state and suffer through more mountain passes than any other race of this caliber in the North America is exciting. Add in the altitude factor and you've got one beast of a race."
---

1 Comment on "USA Pro Cycling Challenge drops Vail time trial, adds Beaver Creek as host city"