Vonn 'skis like a guy,' wins first women's super-G on Birds of Prey men's course
Vail racer 'Tebows' after 46th career victory
Lindsey Vonn is on a Tim Tebow-like roll.
The Denver Broncos quarterback has won five straight games and has his team in first place in the AFC West. Vonn has won four straight World Cup races and has a commanding lead in the overall World Cup chase.
Both athletes have been doing it in unprecedented style. Tebow with a power ground game and now a smattering of passing. And Vonn with a combination of speed and power that was on full display today as she torched the men's Birds of Prey World Cup course for a super-G victory in front of her hometown fans.
"That was the goal today was to really attack, and I tried to ski like a guy," Vonn said. "I don't think I really accomplished that exactly, but for me to ski aggressively here and prove to everyone that I can ski on every course, that was what I wanted to do and I hope that's what I did."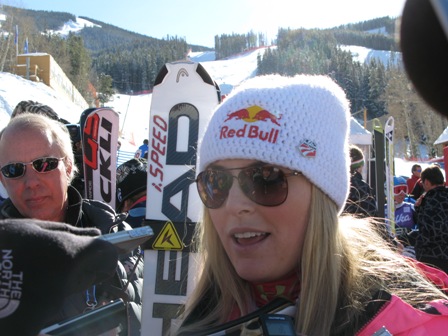 Vonn's winning time of 1 minute, 10.68 seconds came despite a major mistake near the top that nearly caused her to miss a gate. She then powered her way through the bottom part of the course for her fifth victory out of seven events so far this young season.
As if to acknowledge how fortunate she was to survive the tough, technical upper part of the course, Vonn, who was introduced by Tebow at the ESPY Awards earlier this year, dropped to a knee during the awards ceremony and "Tebowed" for the crowd. Vonn also was a guest in the Tebow family box during a Broncos game at Sports Authority Field at Mile High in November.
Tim Tebow's brother, Robby Tebow, was on hand for today's super-G race, but Vonn told the Denver Post she is not currently dating anyone.
"I wanted to win at home so badly and I wanted to win on a men's course and I wanted to prove to everyone here at home that I can win no matter what under any circumstances," said Vonn, whose 46th career World Cup win ties retired Austrian great Renate Goetschl for third on the all-time list. "There are just so many reasons why today is just so special."
Late last month it was revealed that Vonn's husband and advisor, former World Cup racer Thomas Vonn, had filed for divorce after just four years of marriage.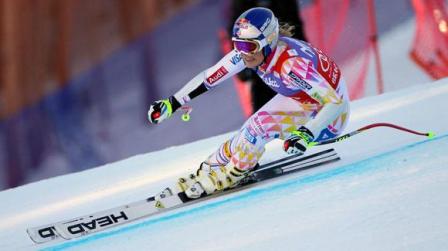 Switzerland's Fabienne Suter was second today with a time of 1:11.05, and Austria's Anna Fenninger was third with a time of 1:11.09. Two other Americans joined Vonn in the top 15. Julia Mancuso was ninth, and Leanne Smith wound up tied for 11th.
"It's a great hill for women and it was really impressive to see so many fans out there on a Wednesday," Mancuso said. "There's a few places we go in Europe that don't have this many fans for Saturday races. Aspen was the same way this year with such amazing crowds. Colorado has been so supportive of ski racing."
Asked to expand on her comments about "skiing like a man," Vonn said she was taking mental notes during men's races at Beaver Creek over the weekend.
"I watched the men's super-G here last week and they were just so dynamic and aggressive, and they really take it down the fall line," Vonn said. "That's what I wanted to try to do today. I think I did that on the bottom, but definitely was going a little bit too straight in some parts.
"It wasn't my best run. I almost went off course of couple of time but I really charged on the bottom and was able to make up the time."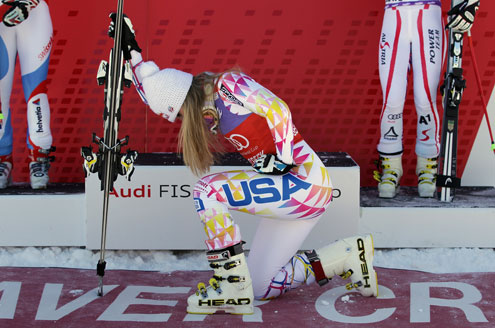 Women have not raced at the World Cup level in the Vail Valley since the 1999 World Alpine Ski Championships. At that time they raced in Vail on the course formerly known as "International" and now named Lindsey's after the Ski and Snowboard Club Vail product. Today' race was a makeup for a super-G cancelled in Val d'Isere, France, because of a lack of snow.
Vonn became the first American to ever win four straight World Cup races, and she tied Germany's Katja Seizinger for the most all-time super-G wins with 16. Vonn has now won 14 of the last 19 super-G's on the circuit.
Seeking what would be an American record fourth overall World Cup title, Vonn now has a commanding lead over Germany's Viktoria Rebensburg (522 points to 286). Rebensburg failed to finish today's race, and defending overall champion Maria Hoefl-Riesch, of Germany, was a distant 21st.
Vonn said she has never had as many butterflies as she had today, racing in front of hometown fans and on the famed Birds of Prey men's course for the first time with just one inspection run.
"I was so nervous. My stomach has been in a knot all day," Vonn said. "In the start I was probably the most nervous I've ever been, and I just tried to do my best to keep it together. This for me is probably one of the best races of my career. Getting a chance to win at home in front of the home crowd here is more than I could have expected."
Now if Tebow can just get the Broncos into the playoffs.
World Cup action continues Thursday with a men's slalom starting at 9:30 a.m. Spectators can reach the Red Tail Finish Area on skis or by free shuttle out of Beaver Creek Village. Go to www.bcworldcup.com for more information.


---

1 Comment on "Vonn 'skis like a guy,' wins first women's super-G on Birds of Prey men's course"