Ligety sizzles in second run, wins second Birds of Prey giant slalom
It took a couple of extra days but Ted Ligety finally defended his giant slalom win from last year on the Birds of Prey course at Beaver Creek.
Ligety today flip-flopped with Austrian Marcel Hirscher, who won Sunday's GS at Beaver Creek, with Ligety second. The Park City, Utah racer claimed his second GS win of the season with a two-run time of 2 minutes, 40.01 seconds.
Hirscher was second with a time of 2:40.70, and Norway's Kjetl Jansrud completed the podium in third with a time of 2:40.79.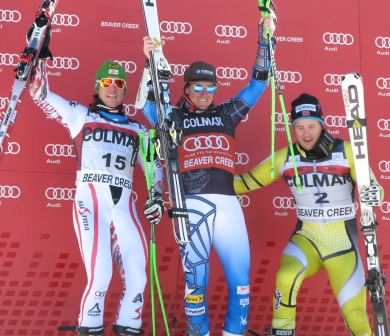 Sitting fourth with a .14 deficit after his first run, Ligety nailed his second run, using the motivation of finishing second to Hirscher on Sunday to claim his 10th career World Cup victory. The 2006 Olympic gold medalist won the second run by .72 seconds.
"I definitely skied with a lot more intensity that last run [today]," Ligety said. "I just got used to the snow more, I had everything set up right and knew exactly what I wanted to do, and knew I didn't want to finish second again."
Ligety's near-perfect second run vaulted him into the lead with three more racers still in the start house, including Hirscher and Norway's Aksel Lund Svindal. Ligety's nearly seven-tenths of a second lead held up.
Svindal wound up sixth but still leads the overall World Cup chase. Ligety, a three-time defending GS discipline champion, vaulted into second in the overall hunt. He won the opening GS in Soelden in October.
His only regret is that his win came today in a makeup race for a World Cup cancelled in Val d'Isere due to a lack of snow instead of in Sunday's regularly scheduled race.
"I'm kind of disappointed it wasn't on Sunday so I couldn't do it in front of my friends and family, but I'm super-psyched to lay down a run like that," Ligety said. "Those are runs that really make ski racing fun."
Two other Americans cracked the top 15, with Tim Jitloff, of Reno, Nev., in 10th, and Tommy Ford, of Bend, Ore., in 15th.

"The difference today," Jitloff said, "is I didn't get caught in the panel four gates from the finish like I did first run on Sunday. That kind of ruined my day on Sunday. I was actually skiing quite well -- probably heading into like 16th or 17th on the first run -- and four gates from the finish the thing wrapped around my body and made me come to a halt.

"So it was a frustrating day [on Sunday] and I took that frustration out today. I was, for lack of a better work, a little pissed off. And I used it today."

New Hampshire's Bode Miller, a former GS winner at Beaver Creek, made too many mistakes in both runs and barely finished in the points in 29th.
In 13 men's and women's World Cup races so far this season, the U.S. Ski Team has combined for 10 podium finishes, including seven victories.
The women have a makeup race from Val d'Isere Wednesday, skiing a super-G on the Birds of Prey course for the first time ever. Vail's Lindsey Vonn will try to win her fourth consecutive race. Then the men make up a cancelled slalom on Thursday.
The races are free and open to the public either on skis or by a free shuttle out of Beaver Creek Village. Go to www.bcworldcup.com for more information.


---

1 Comment on "Ligety sizzles in second run, wins second Birds of Prey giant slalom"