Vonn riding three-race World Cup winning streak back home to Vail, Beaver Creek
Ligety, a close second in Birds of Prey GS, relishes second shot on Tuesday
Vail's Lindsey Vonn heads back to Vail this week on a three-race winning streak. After winning today's World Cup super-G in Lake Louise, Alberta, Vonn has now taken four of the six races held so far this season – and four out of five that she's competed in.
Vonn, last year's Olympic downhill champion, won downhills at Lake Louise on Friday and Saturday by huge margins. Next up is Wednesday's first-ever super-G on the Birds of Prey course at Beaver Creek – a makeup for a race cancelled in Val d'Isere, France, because of a lack of snow.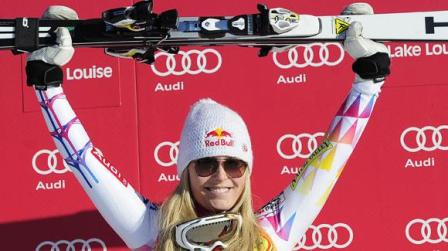 "I'm so excited to go to Beaver Creek," Vonn said after her 45th career win, fourth on the all-time list. "It's going to be such an awesome race to finally be able to race at home, five minutes from where I live and to have the support of my friends and family there. Hopefully, I can take this momentum with me to Beaver Creek and finally get a win in my hometown."
Julia Mancuso, of Squaw Valley, Calif., finished third today in Lake Louise, and is also looking to carry that momentum into Beaver Creek, where men have been competing since 1997. Women have not raced at the World Cup level in the Vail Valley since 1999, when they raced on Vail Mountain in the World Championships.
"It's nice to have a good result and I can't wait to rip up the Beaver Creek hill," said Mancuso, a 2006 Olympic gold medalist in giant slalom. "The hill looks really challenging, so I think it will be a lot of fun. Watching the men's race, it was very turny, steep and always moving -- and that's the kind of hill I like.
"The challenging mountain will be exciting, and with no [women] skiing there before, it's worth taking a lot of risks and hopefully being rewarded."
The men's circuit wrapped up a weekend of action at Beaver Creek with a GS today. Last year's winner, Park City, Utah's Ted Ligety, finished a close second to Austria's Marcel Hirscher. Ligety led Hirscher by .21 seconds after the first run of GS, but wound up second to him in the deciding run by .16 seconds.
"Second place is obviously good, but I wanted to win more than anything," said Ligety, a three-time overall GS discipline winner and the 2006 Olympic gold medalist in combined. "I feel like I had room to improve after my first run, I had more speed. I've got my family and friends here from Park City so it's even more motivation to put up some good results."
Ligety said the Birds of Prey course is incredibly demanding.
"It's easy to make mistakes on this hill," he said. "There were certain parts where I skied well and others where I was all over the place. I knew exactly where I lost it. I had a little bobble on the bottom that lost me some time. I was a little soft in my turn instead of being completely confident."
The men will compete in two races at Beaver Creek next week – another GS on Tuesday and a slalom on Thursday – to make up for cancelled races at Val d'Isere.
"This is a great hill to have a GS race on," Ligety added. "It flows a lot better than Val d'Isere -- it's a GS hill. I'm really looking forward to Tuesday -- it should be good. This race [today] is a good motivator for the races here next week."

Vonn will be chasing several all-time records when she returns next week to the Vail Valley, where the Minnesota native trained for years with Ski and Snowboard Club Vail. One more win ties her with Austrian great Renate Goetschl (46) for third on the all-time women's victory list. Next up is Switzerland's Vreni Schneider in second with 55 and then the women's all-time winner, Austria's Annemarie Moser-Proell (62).

Vonn, if she stays healthy, could conceivably eclipse Moser-Proell next season. Especially if she breaks Schneider's single-season win record of 14 victories in one World Cup season, set in 1988-89. The most Vonn has ever won in one season was 11 races in 2009-10. Just six races into this season she already has four wins.

If Vonn wins 10 more times this season -- not inconceivable at her current clip -- she would match Schneider for both career wins and the single-season mark.

All of next week's races are free and open to the public. The Red Tail finish stadium can be reached either by a free shuttle out of Beaver Creek Village or on skis. Go to www.bcworldcup.com for more information.
---

0 Comments on "Vonn riding three-race World Cup winning streak back home to Vail, Beaver Creek"
Be the first to comment below.