Vail's Vonn wins No. 10 at Lake Louise
Weibrecht turns in top American result in Birds of Prey super-G
Lindsey Vonn is headed home next week for her first-ever Vail Valley World Cup with massive amounts of momentum. The Vail racer won the 10th World Cup of her career at Lake Louise, Alberta today – her second downhill of the weekend.
The Ski and Snowboard Club Vail product will race in a super-G at Lake Louise on Sunday and then head back to Vail for the first ever women's super-G on the Birds of Prey course at Beaver Creek, where the men competed in a super-G today.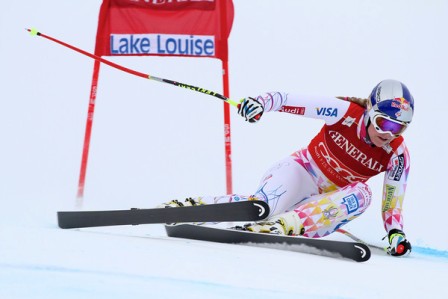 "It would be great to ski well again [Sunday] and go into the super-G at Beaver Creek with a lot of momentum," Vonn said. "I'm really excited to get back home to Vail and race in front of my hometown fans."
Vonn and Bode Miller won downhills on the same day for the first time since 2004 on Friday, but the magic couldn't be duplicated today. Miller made a costly mistake near the top of the Birds of Prey course, pulled off one of his patented miraculous saves and still wound up 21st. Switzerland's Sandro Viletta skied brilliantly out of the 30th spot to take the win.
Lake Placid's Andrew Weibrecht, a bronze medalist at the 2010 Olympics in Whistler, turned in the top American finish at Beaver Creek today and his best ever result in super-G. Skiing out of the 34th position and coming back from a season-ending injury last season, Weibrecht torched the course to finish 10th.
"I went in and I was attacking top to bottom," Weibrecht said. "I didn't leave anything out there. I started to get my feet back under me and I took a lot of confidence out of the downhill [on Friday]. I knew that the skiing was there; I just needed to put a hard run down and really try to execute it. I made it pretty clean top to bottom and was carrying that speed off the top."

When Viletta came down he knocked Canada's Robbie Dixon off the podium and into fourth, tying his career-best result.

"It's a bittersweet day for me but I did everything I could," said Dixon, who sat out the second half of last season with a serious concussion. "To get a podium would have been a pretty special moment, especially with some of the stuff I've had to go through over the last year. But Sandro had a wicked run. This is a big step for me in terms of building confidence."

The men compete again in Beaver Creek on Sunday, with Ted Ligety – who skied off course in today's super-G – looking to defend his giant slalom win on the Birds of Prey course last season. Ligety gets another shot at a men's GS on Tuesday at Beaver Creek – rescheduled after races were cancelled in Val d'Isere, France, because of a lack of snow. The men will also ski an additional slalom at Beaver Creek on Thursday.
Wednesday's women's super-G will also be one of the cancelled Val d'Isere races. Women have not raced in the Vail Valley since the 1999 World Alpine Championships at Vail. Vonn will be looking for either her 45th or 46th career World Cup in Beaver Creek, depending on what happens in Sunday's Lake Louise super-G.
With 44 wins, Vonn currently is fourth on the all-time wins list for female ski racers, trailing third-place Renate Goetschl of Austria (46) by just two wins. Vonn has now won three of the four World Cup races she's skied in this season and leads the hunt for her fourth overall title by 42 points. Nearly a quarter of all of her wins have come at Lake Louise.
"I come here knowing that I've won in the past and it gives me a lot of confidence," Vonn said. "It's just a great way to start the speed season. I feel that if I start well here then it will carry through the season. Last year I didn't have as good of a start, so this year I just wanted to come out strong. Having back-to-back wins is certainly a good sign."
In Friday's downhill, Vonn won by the largest margin of her career, 1.95 seconds. Today's win was the second largest margin, 1.68 seconds over France's Marie Marchand-Arvier. Clearly the course suits Vonn's style.
"The first race I ever had here, I think it was a super-G, I almost landed in the top three, but I crashed a few gates before the finish," Vonn said. "I've always had a good connection here with the snow and the way the mountain runs. I just love racing in Lake Louise."
The first run of men's GS starts at Beaver Creek Sunday at 9:45 a.m. The races are free and open to the public and can be accessed either by free shuttle or on skis. Go to www.bcworldcup.com for more information.
---

0 Comments on "Vail's Vonn wins No. 10 at Lake Louise"
Be the first to comment below.