Vonn dominates again in Lake Louise downhill
Glenwood's McKennis comes back from injury, takes 8th
Vail's Lindsey Vonn should just move to Lake Louise, Alberta. After all, she basically owns the place already.
The Ski and Snowboard Club Vail product won for the ninth time there today, putting down a blistering downhill run to win by nearly 2 seconds over second-place finisher Tina Weirather of Liechtenstein.
It was Vonn's record 43rd World Cup victory, leaving her all alone in fourth on the all-time victory list for women. More than 20 percent of her wins have come at Lake Louise, where she had won six straight downhills before having that streak snapped last year.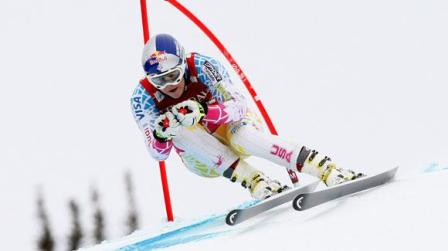 There have been questions about Vonn's focus after it came out late last month that her husband Thomas Vonn had filed for divorce. Questions answered, apparently.
"Skiing is the best thing for me," Vonn said. "When I'm on my skis, on the mountain and going fast I feel really comfortable. I had a good feeling today. It's been amazing to have the support of my teammates, coaches and everyone on the World Cup. My sister came all the way from North Carolina to watch me and it's definitely helping me focus on skiing."
Alice McKennis, of Glenwood Springs, was eighth after injuring her knee at Lake Louise last year and sitting out the rest of the season.
"It's been such a long road for me and to be fast in my first race back is just an incredible feeling. I felt so much more comforatble today than I have in any of the training runs," McKennis said. "I felt like I was skiing well, but I no idea that I'd come down in a decent position. I'm so pumped up for another day of downhill tomorrow."
Vonn is now just eight points behind Aspen giant slalom winner Viktoria Rebensburg in the early hunt for the overall World Cup title.
Vonn's win came on the same day Bode Miller won the Birds of Prey downhill at Beaver Creek, marking the first time two Americans doubled up with downhill wins since Vonn (then Kildow) and Miller did it on Dec. 3, 2004 – also at Beaver Creek and Lake Louise.
"With Bode winning in Beaver Creek, it was a big day for the U.S. Ski Team and I hope we can continue the trend through the weekend and into next week when the men's and women's teams are together in Beaver Creek," Vonn said.
Vonn has two more chances for victory this weekend in Lake Louise -- a downhill Saturday and a super-G Sunday -- and then comes to Beaver Creek on Wednesday to race in women's super-G for the first time ever on the Birds of Prey course.
"I'm so excited to finally be able to race in my hometown," Vonn said. "It's going to be awesome. We're only going to have that one inspection for the super-G, so I need to be really focused to be ready for the race on Wednesday."
---

0 Comments on "Vonn dominates again in Lake Louise downhill"
Be the first to comment below.