Vonn to race Birds of Prey for first time in rescheduled World Cup action at Beaver Creek
Three Val d'Isere races moved to Beaver Creek, including women's super-G
American ski-racing great Lindsey Vonn will race at the World Cup level for the first time in the Vail Valley next week after International Ski Racing Federation (FIS) officials reversed themselves and announced today that Beaver Creek will pick up three additional World Cup races.
A lack of snow for scheduled men's and women's races in Val d'Isere, France, led racing officials to reschedule a men's giant slalom in Beaver Creek on Tuesday, Dec. 6, followed by a women's super-G on the famed Birds of Prey course on Wednesday, Dec. 7, and a men's slalom on Thursday, Dec. 8.
Earlier in the week, officials had reported FIS would not reschedule the Val d'Isere races in Colorado.
Next week's action is in addition to a men's downhill, super-G and GS set for this Friday through Sunday at Beaver Creek.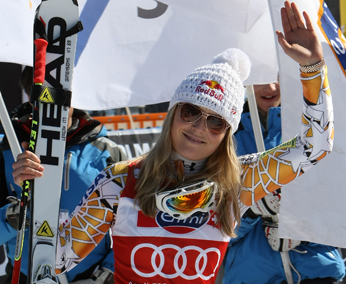 "While we don't ever want to hope for another organizer to lose races," said Ceil Folz, president of the Vail Valley Foundation, "picking up these events is certainly an added bonus for our community. We have a long track record of hosting transplanted races and it is a pleasure to be able to step in once again and help the FIS in this regard."
World Cup women have not raced in the Vail Valley since the 1999 World Alpine Ski Championships, and they have never raced on the Birds of Prey course.
Vonn, a Minnesota native, moved to Vail in the 1990s to train with Ski and Snowboard Club Vail. She owns the most World Cup wins ever by an American racer (42) and is the only American woman who's won an Olympic downhill gold.
Super-G is one of her better events, and Vonn may be coming off at least one win this weekend in Lake Louise, Canada, where she's won either a downhill or a super-G eight times in her career.
American racing fans are hoping Vonn can maintain her legendary focus after it was announced over the weekend that her husband, Thomas Vonn, has started divorce proceedings.
Beaver Creek is constructing a women's World Cup course adjacent to the Birds of Prey course for the 2015 World Alpine Skiing Championships.
"We all thought that the first time we would see Lindsey Vonn racing in Beaver Creek would be in 2013 with the test event for our new ladies Downhill course," Folz said. "We couldn't be more excited about the potential of not only seeing Lindsey compete here this year, but also on Birds of Prey."
Designed by Swiss Olympian Bernhard Russi, Birds of Prey celebrated its coming out party in December of 1997. Since then, only men's World Cup races have been contested on the renowned racecourse.
American Ted Ligety is the reigning Birds of Prey GS champion, and Bode Miller has won three times on the course.
"All the pieces of the puzzle were able to be put in place," Folz said, "and it signals a concerted effort between the Vail Valley Foundation, Vail Resorts, the U.S. Ski Team and the FIS. We most certainly look forward to this opportunity."

Friday's men's downhill starts at 11 a.m. It's free and open to the public via free shuttle rides to Red Tail Camp from Beaver Creek Village. Saturday's men's super-G also starts at 11 a.m., and Sunday's men's GS starts at 9:45 a.m.

For more information on the Birds of Prey World Cup, including next week's newly added races, go to www.bcworldcup.com.
---

1 Comment on "Vonn to race Birds of Prey for first time in rescheduled World Cup action at Beaver Creek"