Mancuso third in Aspen GS as Vonn rallies to take 12th
Vail racers came up short, but an American finally broke the World Cup podium jinx in Aspen today as Squaw Valley's Julia Mancuso took third and German Viktoria Rebensburg won the Winternational giant slalom.
Vail's Lindsey Vonn, winner of the first World Cup GS this season in Austria, turned in a disappointing first run (21st) and had to rally in the second run to wind up 12th overall. Vail's Sarah Schleper didn't finish the first run, and Mikaela Shiffrin of Eagle-Vail didn't qualify for a second run.
Mancuso, a gold medalist in GS at the 2006 Olympics, broke a seven-year podium jinx for Americans in Aspen, taking the third podium spot with two brilliant runs. It was the first U.S. podium in Aspen since Kristina Koznick was third in a slalom in November, 2004, and the first U.S. women's GS podium since Tamara McKinney's win in 1981.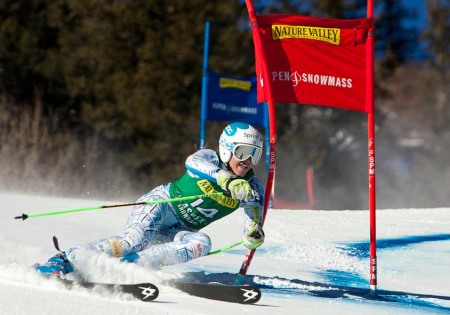 "I've been wanting to ski really fast in GS and I had a couple of unlucky second runs last year so this is just a great way to start," Mancuso said. "I know now that with any start position, I can find my way onto the podium.
"I think every time I've raced here I've been in the top 10 or have been really close to the top 10. I've always loved this hill because it's always moving, it's really steep and it's a lot of fun."
Defending World Cup GS champ Rebensburg survived a near crash on the first run to come back for the win. Elisabeth Goergl, of Austria, finished second. Vonn battled back from a very tough first run to score points in 12th.
"With the terrain and the flat light, I just kept making mistakes the second run, but it wasn't quite enough," Vonn said. "I just wasn't really myself in the first run, I made some improvements in the second - it's definitely not what I was hoping for here in Aspen.
"The crowd was great, they're always so supportive here in Aspen. I'm really excited that Julia was able to put the U.S. back on the podium in our home race."
OFFICIAL RESULTS
Nature Valley Aspen Winternational
Audi FIS Alpine World Cup
Aspen, CO – Nov. 26, 2011
Women's Giant Slalom
1. Viktoria Rebensburg, Germany, 2:11.25
2. Elisabeth Goergl, Austria, 2:11.58
3. Julia Mancuso, Squaw Valley, CA, 2:11.69
-
12. Lindsey Vonn, Vail, CO, 2:12.99
-
Did not finish first run: Sarah Schleper, Vail, CO
-
Did not qualify: Resi Stiegler, Jackson Hole, WY; Kiley Staples, Park City, UT; Mikaela Shiffrin, Eagle-Vail, CO
For complete results: http://www.fis-ski.com/
LAKE LOUISE, Canada -- Bode Miller led three Americans into the points today in the opening World Cup downhill in Lake Louise. Marco Sullivan was 24th and Travis Ganong was 27th. Swiss Didier Cuche began defense of this downhill title with a strong win.
---

3 Comments on "Mancuso third in Aspen GS as Vonn rallies to take 12th"