Supporters of national roadless rule urge Obama to deny Colorado plan
When it comes to Colorado's controversial roadless rule, conservation groups are waiting to see whether the Obama administration delivers a Keystone XL-style victory or the disappointment of delaying tougher EPA smog standards.
A dozen groups banded together to give the administration a nudge with an ad campaign that launched in the Denver Post today. They want to see the Colorado Roadless Rule petition process scrapped and the Roadless Area Conservation Rule of 2001 implemented around the nation.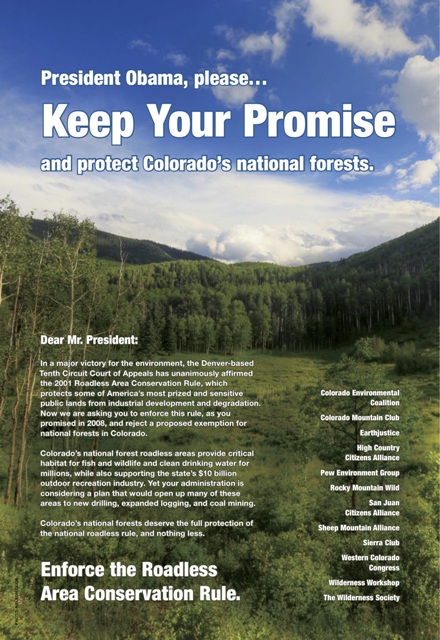 The Colorado Roadless Rule is a state plan put together in conjunction with the U.S. Forest Service (USFS) to manage about 4.2 million acres of federally owned forests in the state that have been inventoried as roadless and are largely undisturbed by development.
Critics say the Colorado plan allows far too many road-building exemptions for natural gas drilling, logging, coal mining and ski area expansion. Colorado officials have said they plan to forge ahead with their rule despite a 10th Circuit Court of Appeals decision last month upholding a national 2001 roadless rule implemented during the Clinton administration.
"The ruling from the court was clear, and so is the message from Colorado groups: our national forests deserve the full protection of the national roadless rule and nothing less," said Elise Jones, executive director of Colorado Environmental Coalition. "The Colorado plan, which had been billed as an insurance policy, is no longer necessary."
The Bush administration quickly tossed out the 2001 national rule soon after entering the White House, touching off years of legal wrangling in two separate U.S. district courts. Bush officials did allow for a state-specific petition process, which Colorado engaged in beginning in 2005.
But last month's decision was the second appeals court ruling in favor of the 2001 Clinton-era rule, leading some legal observers to say Colorado no longer needs its own plan. Still, the state vows to continue the process.
"This ruling does not preclude further litigation, which could continue to create uncertainty," Colorado Department of Natural Resources Executive Director Mike King said last month. "As a result, we will continue working to finalize the Colorado rule so we can provide clear and appropriate direction on the management and protection of national forest roadless areas in Colorado."
A recent USFS decision to allow the expansion of Colorado's West Elk coal mine is seen by some as a sign the administration may be leaning toward allowing the Colorado-specific roadless rule to be implemented.

---

82 Comments on "Supporters of national roadless rule urge Obama to deny Colorado plan"