Beaver Creek opens Wednesday with 11 trails, 231 skiable acres
Beaver Creek opens at 9 a.m. Wednesday with five chairlifts, 11 trails, 231 acres of skiable terrain and the much-anticipated chocolate-chip cookie competition at 2 p.m.
The resort will crank up the Centennial Express Lift (#6); Cinch Express Left (#8); Buckaroo Gondola; Bachelor Gulch Express (#16); Strawberry Park Express (#12) for access to Bachelor Gulch only; and six surface lifts.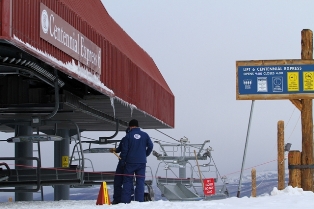 Red Buffalo trail will be open at the top of the mountain; Latigo, Gold Dust, Fool's Gold and Haymeadow on the lower mountain, and Sawbuck trail in Bachelor Gulch. Primrose trail will be open from the top of Strawberry Park Express to Bachelor Gulch. Intertwine trail will offer skiing back to the main mountain from Bachelor Gulch. A terrain park in the Haymeadow area will provide a jib park with 10 features, including rails, boxes, log slides and stall features.
Spruce Saddle Restaurant at the top of Centennial Express Lift will be open for lunch. At 2 p.m. in Beaver Creek Village, five different chocolate chip cookie recipes will be sampled and voted on, with the winning cookie served for free every day at 3 p.m. at the base of the mountain. More than 400,000 cookies are served up every season.
For full details on all of Beaver Creek's events, including the opening day Chocolate Chip Cookie Competition, Holiday Tree Lighting and Gingerbread Competition, World Cup and weekly family programming, go to
www.beavercreek.com
or call (877) 204-7883.
Also on Wednesday, Vail is scheduled to open two more chairlifts – Avanti Express Lift (#2) and Gopher Hill Lift (#12) -- bringing the skiable terrain to 21 trails and more than 300 acres.
Both resorts got a small blast of new snow Monday night, with Beaver Creek recording 4 inches new this morning and Vail reporting 3 new.
Forecasters
are calling for sunny and dry weather Tuesday through Thursday, with another storm expected Thursday night into Friday (up to 7 inches new).
However, Vail Resorts
season ski pass restrictions
will be in effect Friday and Saturday.
---

5 Comments on "Beaver Creek opens Wednesday with 11 trails, 231 skiable acres"