Top women ski racers converge on snow-covered Aspen for World Cup action
Vail's Vonn, Schleper, Shiffrin expected to contend in GS, slalom
It's not often the crowd goes wild before a race even starts.
But that's what's playing out in Aspen where a winter wonderland already awaits the world's fastest women on skis for World Cup racing on Thanksgiving weekend, Nov. 26-27. Race course officials — and more than a few business owners — are rejoicing over the snowy spectacle on Aspen Mountain.
For the last decade, the International Ski Federation (FIS) and the Aspen Skiing Co. have typically kept their fingers crossed as the annual women's Nature Valley Aspen Winternational approached. One year there were even wildflowers popping up on Aspen Mountain just days before the races had been scheduled.
This year there is enough snow to host the races at the word "go." FIS officials confirmed the race venue last week.
"This has been one of our best preparation periods ever," Aspen spokesman Jeff Hanle said. "We were able to blow plenty of snow at the beginning of the month and take our time perfecting the course and avoid the stress of having to work on it last minute."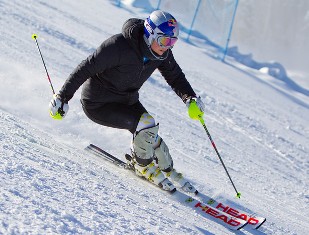 That's welcome news for fans of U.S. racing stars like Vail's Lindsey Vonn and Sarah Schleper, who earlier this month watched the Audi FIS Alpine World Cup slalom races in Levi, Finland, get canceled due to lack of snow. Now Aspen officials are inviting the U.S. Ski Team to train on the Aspen Mountain course a week early.
The team last week broke in the new U.S. Ski Team Speed Center in Copper Mountain. The new training digs in Copper are world class, featuring 87 snowguns that cover a two-mile course where skiers hit speeds of 75 mph as they drop 2,300 feet in elevation. It is being hailed as the only full-length downhill center on earth for racers to train in the weeks before the Alpine speed races get moving.
The U.S. Ski Team has also been training at Vail's Golden Peak. The Audi Birds of Prey men's World Cup races are set for Dec. 2-4 in nearby Beaver Creek, where cold temperatures and snow also abound.
The U.S. women's tech team (slalom and giant slalom), which has never enjoyed overwhelming success at Aspen, could be poised for a breakout showing at this year's Winternational. Schleper won a FIS-sanctioned giant slalom at Copper last week, with Vail's Mikaela Shiffrin right behind her in second.
Later in the week, U.S. veteran Resi Stiegler, returning from injury last season, won a FIS slalom at Copper, with Shiffrin again in second.
Vonn is coming off her first-ever GS win in the opening World Cup race in Soelden, Austia, last month. A Ski and Snowboard Club Vail product like Schleper and Shiffrin, Vonn has the most World Cup wins of any American ski racers in the history of the sport (42), but GS has always been her weakest discipline. That appears to have changed after an intense off-season of training in the discipline.

Vonn became the first American woman (fifth overall) to win in all five World Cup disciplines. Vonn is now tied for fourth most wins all-time amongst women with Sweden's Anja Paerson.

"Aspen is a very difficult race hill; a podium there is big, but a win is huge," Vonn said. "Winning in Soelden was a huge boost for my confidence and I'd love to keep things rolling in Aspen."

American Julia Mancuso, of Squaw Valley, Calif., won a gold medal in the GS at the Torino Olympics in 2006 and could also shine on the slopes of Aspen.
Aspen has a long tradition of ski racing and has been home to legends of the sport like the late Dick Dorworth, who was the world speed record holder, an Aspen ski school director and a U.S. Ski Team coach, not to mention an author of more than one book on skiing. His name will be enshrined on the U.S. Ski and Snowboard Hall of Fame Honor Roll with the Class of 2011 at a large ceremony in April.
World Cup races in Aspen attract healthy crowds and create a vibrant atmosphere to usher in the opening of the ski season. Aspen Mountain is set to open on Thanksgiving Day. Thanks to all the early snow Snowmass opened five days earlier than scheduled, cranking up the lifts on Saturday. Aspen Highlands and Buttermilk open on Dec. 10.
Warm and sunny weather is expected Tuesday through Thursday, with a storm expected to roll through the area on Friday.
The women race a giant slalom on Saturday, followed by a slalom on Sunday. Click here for a full schedule.
---

6 Comments on "Top women ski racers converge on snow-covered Aspen for World Cup action"